Moscow to get two Speakers' Corners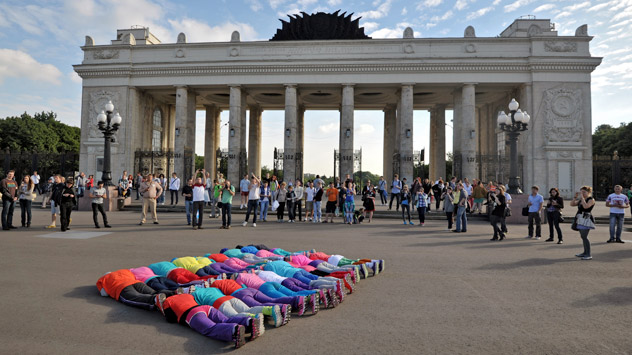 Gorky Park has become more popular as a recreation area among Muscovites since last year's renovation. Source: Kommersant.
A bid to create Moscow's Hyde Park becomes reality as Gorky and Sokolniki parks are designated free speech zones.
Vladimir Putin spoke in February of the need to set up a place in Moscow where anyone "can speak openly and freely on any topic they like".
The Moscow authorities backed the idea, partly in response to the series of rallies held that followed one after the other in the wake of the parliamentary elections in March. Many Muscovites resented the inconvenience caused by the demonstrations, complaining of transport congestion, public disorder and noise. A working group of experts was asked to find a place where rallies could be held without disrupting the everyday flow of city life. They settled on two places: Gorky and Sokolniki parks, two of Moscow's most popular green spaces.
Gorky Park opened in 1928 on the site of the All-Russian Agricultural and Handicraft Industrial Exhibition. The layout was conceived by the avant-garde architect Konstantin Melnikov. Among the park's main attractions are the fountains and ponds, while Zeleny Theatre is a popular concert venue. The park covers 270 acres, including Neskuchniy Garden, and is visited by between four and five million people a year.
Sokolniki Park first became publicly accessible in the 1880s. In 1931, it was established as a park by the Soviet authorities, and work began on improving its facilities, which included various attractions, including concert stages and an open-air cinema. Since 1959 the park has boasted an exhibition centre. Sokolniki covers 1,450 acres and receives between seven and eight million visitors a year.
Alexei Mayorov, head of the Moscow Department of Regional Security, said that the parks would be equipped to deal with gatherings of up to 2,000 people. There is a pressing need for sites for such small rallies in the capital. According to Mr. Mayorov, in just seven months the municipal government received about 250 applications to hold rallies for up to 1,000 people, which represents 89% of all applications.
He made clear that special permission would not be required to hold events at the experimental sites in Gorky and Sokolniki parks. People wanting to hold a rally could simply apply online, for which purpose a website will be set up. Mr. Mayorov added that by September 1, the mayor of Moscow was to be presented with a clear set of detailed proposals on setting up the Russian capital's equivalent of Speakers' Corner in Hyde Park, London.
Both parks have been under renovation since last year. Entrance is now free and new cultural and sports facilities, bike paths and rollerdromes have been built with bikes and skates available to rent; there is also free Wi-Fi coverage. At the same time, some of the old rides and catering facilities have been dismantled. Both parks have been assigned the status of "autonomous cultural institution of Moscow".
This article was compiled from reporting by Kommersant and Rossiyskaya Gazeta.
All rights reserved by Rossiyskaya Gazeta.