Russian pharma company with Indian investment to launch medicines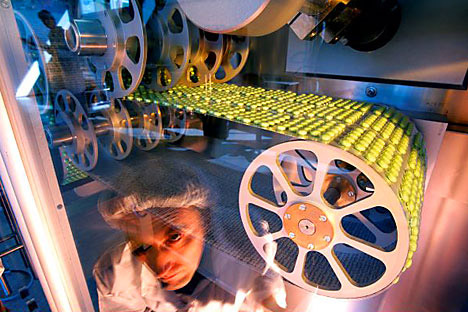 Source: Reuters/Vostock photo
New line of pills and capsules to be launched at the Pharmasyntez factory in Irkutsk on September 7.
A Russian pharmaceutical company, backed by Indian investors, will launch its third pill-and-capsule production line at the Pharmasyntez factory in the Siberian city of Irkutsk on September 7.
The Ambassador of India to Russia Ajai Malhotra visited the Pharmasyntez plant, as part of a trip to develop better relations between India and Siberian regions. During his trip, Ambassador Malhotra met Sergey Yeroschenko, Governor of the Irkutsk region. The Irkutsk Governor said that India's move to establish joint ventures in the Irkutsk Region, which manufactures consumer goods, processed food and medicines, is an important step for the development of mutually beneficial bilateral relations.
Pharmasyntez's profile
Pharmasyntez is Russia's largest manufacturer of anti-TB medications. The company has three production sites producing about 50 types of medicines including pills, capsules, granules and infusion solutions. The annual turnover of Pharmasyntez is about US$85 million.
Pharmasyntez sources its pharmaceutical ingredients in India to produce anti-tuberculosis medications. In addition, 80 percent of the equipment for the third production site in Irkutsk was acquired from Indian companies. Pharmasyntez has invested about 1 billion roubles in the construction and accessories of the new production site in Irkutsk.
"The Republic of India is a traditional trade partner of the Irkutsk region. The production of pharmaceuticals is one of the most important areas of international cooperation," said Ajai Malhotra. The Ambassador also said that the countries should intensify their cooperation in aircraft building, tourism and education.
In December 2011, India signed a US$1.4 billion intergovernmental agreement with Irkutsk Aviation Plant and bought 42 SU-30 MKI fighters. Now the plant is being reequipped.
According to the Irkutsk Administration, trade between the Irkutsk region and India totaled crossed US$150 million in the first half of 2012. "These numbers reflect the collaboration in the supply of aircraft and components for the Indian Air Force, the supply of Indian computer technology, electrical and radio equipment, and pharmaceuticals to the Irkutsk region. This year, local companies also began shipping textile and print products to India", the Irkutsk Administration said in a press-release.
All rights reserved by Rossiyskaya Gazeta.