Succeeding in Russian e-commerce requires deep pockets and strong execution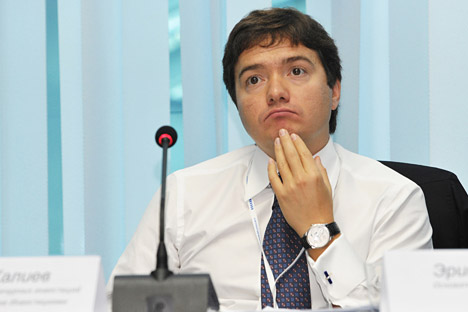 Aidar Kaliev joined the VTB team in 2010. Source: PhotoXPress.
The investment arm of VTB Group, a leading Russian state-controlled financial group, VTB Capital has financed a number of Russian and foreign small and mid-sized IT companies. The fund's Global Head of Venture Capital, Aidar Kaliev, shares with East-West Digital News his vision of this fast-growing industry.
East-West Digital News: What is your vision of Russian e-commerce as an investor?
Aidar Kaliev: On the one hand, this market offers a big opportunity. The country is clearly attractive: last year, the Russian Internet maket became the largest in Europe, with over 50 million users.
So far online retail has had little penetration, but it is growing very fast. E-commerce accounts for less than 2% of total retail sales, compared to over 10% in some advanced countries – so huge growth is ahead. In the middle term, Russia will also become one of the major e-commerce markets in Europe.
On the other hand, Russian online retail is also a challenge. Very big investments are required in infrastructure. So far, certain business models which could develop relatively easily in the West, might be more difficult, slow, and costly in Russia. Among the issues are payments. For orders of physical goods, cash on delivery accounts for over 80%, and, as a consequence, cash flow and returns are issues.
However, this is a chance for domestic players. Foreigners will have difficulties coming here, including importing their assortment and solving local infrastructure challenges. This is probably the reason why global ecommerce giants haven't come to Russia, or have developed only a partial presence in the country.
In this context, two essential things are required for an e-commerce venture to succeed: deep pockets and strong execution. Our pockets are deep enough; but for execution we made an alliance with Fast Lane Ventures. This company has accumulated valuable experience in two years and has several teams organizing vertical projects. Many – though not all – of our ventures in the Internet field and e-commerce will be organized through, or in partnership with, Fast Lane Ventures.
EWDN: What are, in your opinion, the exit perspectives for funds investing in Russian e-commerce companies?
A. K.: This is essentially a question of time. For the moment, I see just a few candidates, namely Ozon.ru and KupiVip.ru. Their exit is likely to happen even before anyone else can grow enough for an exit. It will probably be an IPO on a Western stock exchange, even though one cannot rule out that a foreign player – not necessarily eBay or Amazon – comes and buys such sites.
EWDN: Why IPOs, and why in the West?
A. K.: These players are too big for acquisitions; and Russian stock exchanges are not mature enough to trade their shares. It is a very small and mostly non-liquid market. The combined capitalization of all listed Russian companies is smaller than that of Apple !
We must, and we will, develop the Russian stock exchanges, but some still perceive the country's wealth as being mainly about oil and mines; so for digital companies today, the West is way better for IPOs.
Aidar Kaliev joined the VTB team in 2010. In the years 2008-2009, he was Chairman of the Board of Summa Telecom, an Internet broadband start-up operating in Russia, Ukraine, and Kazakhstan. From 2006 to 2008, he served as CEO of Eventis Telecom, a GSM and fixed-line start-up operating in Russia, Kazakhstan, Kyrgyzstan, Uzbekistan, Moldova, and Georgia. Kaliev has wide experience in the Central Asian region. During 2001- 2005, he was the Deputy General Director for Finance, Economics and International Relations at JSC Electric Power Plants in Kyrgyzstan. He was also the First Deputy General Director of JSC Kyrgyzgas. Kaliev graduated from St. Petersburg State University with distinction, majoring in Operations Research in Economics.
First published in East-West Digital News.
All rights reserved by Rossiyskaya Gazeta.