Russia calls for unilateral sanctions against Syria to be lifted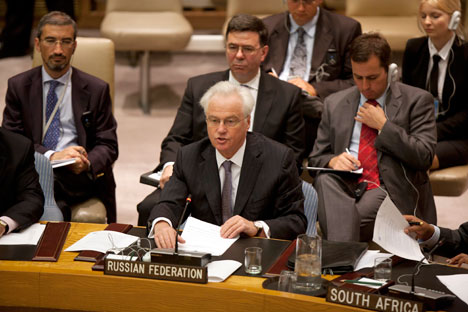 Russia's Permanent Representative to the UN Vitaliy Churkin condemned "efforts by some governments to justify their financial, material, technological or logistics support of illegal, armed groups active in Syria" as unacceptable. Source: Reuters
Unilateral economic sanctions imposed against Syria outside of the United Nations Security Council framework, are having an adverse effect on the humanitarian situation in the country, Russia's Permanent Representative to the United Nations (UN) announced to the UN Security Council.
Sanctions imposed by the United States (U.S.), the European Union (EU) and the Arab League are currently in effect against Syria. Russia's Permanent Representative to the United Nations Vitaliy Churkin condemned "efforts by some governments to justify their financial, material, technological or logistics support of illegal, armed groups active in Syria" as unacceptable.


"We are urging the nations that have introduced sanctions against Syria to lift them immediately. These sanctions adopted outside the scope of the UN Security Council have nothing to do with the actual efforts to help mitigate the Syrian conflict. They merely make life more difficult for ordinary Syrians and deprive them of any chance of satisfying their basic needs and exercising their human rights", Churkin told the UN Security Council at a session in late-August. The session was attended by the foreign ministers of France, Great Britain and some of Syria's neighboring states.
According to the UN, some 2.5 million Syrians are now in need of humanitarian aid. According to the official statistics put out by the Syrian government, some 8,000 people have been killed in the 18 months since the conflict between the authorities and armed insurgents broke out. Yet, at the UN Security Council session in late-August, France's Foreign Minister Laurent Fabius cited figures putting the number of victims at 25,000.

Churkin went on to highlight the Syrian government's efforts to help those affected by the conflict, stressing that they had been able to agree on a humanitarian response plan. "The plan provides for humanitarian activities on Syria's territory by international humanitarian agencies and nongovernmental organizations, in conjunction with local authorities and Syria's Arab Red Crescent",
Churkin said.
Meanwhile, UN High Commissioner for Refugees Antonio Guterres cited the latest statistics, indicating that some 229,000 Syrians had already fled the country to seek asylum in neighboring states: Turkey, Lebanon, Jordan and Iraq. Of this number, only 72,000 have so far been granted refugee status.
Senior Deputy UN Secretary General Jan Eliasson stated that he had taken notice of the recent requests to establish humanitarian corridors or safety zones in Syria that would allow civilians to escape violence. "Such proposals raise serious questions and require careful and critical consideration", Eliasson told the UN Security Council. Churkin admitted to Russian journalists that he also shared Eliasson's concerns. According to Churkin, the situation in Syria is to be the focus of the upcoming session of the UN General Assembly on Sept. 26, which Russia's Foreign Minister Sergei Lavrov is expected to attend.


France and Great Britain suggested that economics ministers should meet with the relevant UN bodies to marshal new humanitarian aid for Syria in the weeks to come.


"If this is an actual proposal and the meeting in question might yield practical results, it really is justified", Churkin said.


First published in Russian in RIA Novosti.
All rights reserved by Rossiyskaya Gazeta.