Walter Rosenblum photo exhibition "Message from the Heart"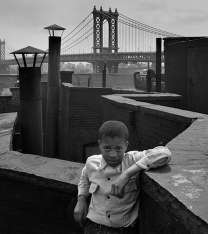 ROSPHOTO State Museum and Exhibition Centre for Photography
35 Bolshaya Morskaya, St.Petersburg
Front Building exhibition hall, 3 floor
Walter Rosenblum is an outstanding photographer, one of the pioneers of the American documentary photography. The exhibition embraces a large body of works, dated back to all periods of photographer's life.
Naomi Rosenblum, wife of Walter Rosenblum, historian of photography:

"Walter Rosenblum was born in New York City in 1919 to a poor immigrant family from Rumania. Grieved by the untimely death of his mother when he was sixteen years old, he wandered the streets of his working-class neighborhood with a camera given him by an older sister and discovered the solace of photography. His early interest in the medium was fortified when he joined the Photo League, an organization of photographers interested in documenting the lives of New York's working poor. At the Photo League, of which he eventually became President, he studied with Paul Strand, one of its founders and met the great documentarian Lewis Hine and the important city photographer Berenice Abbott. Working only with black and white materials, Rosenblum learned to develop and print his own work, a practice that he followed during his entire life. For the next fifty years, he was active exhibiting, lecturing, and writing about twentieth century photography as well as photographing for himself."

The exhibition is accompanied with screenings of the film Walter Rosenblum: In Search of Pitt Street by Nina Rosenblum, daughter of the photographer. Nina has been twice nominated for Oscar as documentary film producer.
All rights reserved by Rossiyskaya Gazeta.