International Public Art Festival "Art Prospect"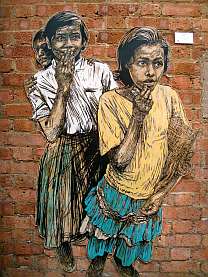 International arts organization CEC ArtsLink, with support from the US Embassy in Moscow, the Trust for Mutual Understanding, the St. Petersburg branch of the National Center for Contemporary Art, and "Anna Nova" Gallery, launches the 1st Annual, International Public Art Festival Art Prospect on September 20, 2012 in St. Petersburg, Russia.
Unique in form and content, Art Prospect is the first large-scale international festival of public art in St. Petersburg's city center.
Art Prospect will transform the city's urban landscape, illuminating the history and beauty of Liteiny Prospect and its winding, seemingly endless courtyards for city residents and visitors.
Over the course of four days, Art Prospect will fill the courtyards, parks, and storefronts of Liteiny Prospect, one of St. Petersburg's most heavily trafficked and vital streets in the city's historic center, with temporary contemporary art installations and performances. The Festival is curated by CEC ArtsLink in partnership with Art in Odd Places, a New York based organization, which presents visual and performance art in unexpected places.

Art Prospect brings together nineteen Russian and American artists and arts collectives who share a commitment to bringing art into untraditional venues and reaching a broad audience. In September 2012, nine American artists, including luminaries of public art Sheryl Oring, Paul Notzold, and Ed Woodham, will travel to St. Petersburg to create and install work for the Festival. The Festival will be accompanied by an educational program of lectures and workshops by participating artists.
Projects engage passersby, providing them with a new perspective of an otherwise familiar environment through site-specific installations, social and spatial interventions, video and audio projects, performance, new media, and other inventive, ephemeral, and time-based practices. Participating artists will create new site-specific works for the Festival, including temporary installations, interactive media projects, wheat-paste collage, and performance, to be shown in a wide variety of locations, including store windows, small parks, hidden courtyards, and cafes.
All rights reserved by Rossiyskaya Gazeta.