London says it has not endorsed the Magnitsky bill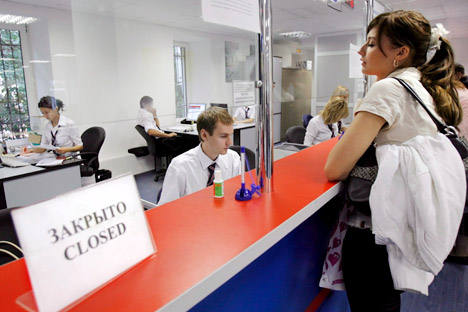 UK authorities told the Russian ambassador in London that UK has not introduced any visa restrictions and have made no political decisions on the issue of the Magnitsky list. Pictured: The visa center in the UK Embassy in Moscow. Source: ITAR-TASS
British authorities deny that the UK has introduced visa sanctions based on the so-called "Magnitsky List."
The United Kingdom has introduced no visa sanctions under the so-called "Magnitsky List," the Russian Foreign Ministry said on Sept. 4, according to RIA Novosti. Thus, earlier reports compiled by U.S. congressmen about Great Britain having become the first country to enact the Magnitsky bill have proven to be erroneous.
UK authorities told the Russian ambassador in London that "the British have not introduced any visa restrictions and have made no political decisions on the issue."
In early-September, The Sunday Times reported that a detailed blacklist, which contains the names of 60 employees of the Interior Ministry, FSB, Prosecutor General's Office, Federal Penitentiary Service and Court of Arbitration suspected of involvement in the death of Hermitage Capital lawyer Sergei Magnitsky, was handed over by UK Immigration Minister Damian Green to a member of the British parliament. A letter accompanying the list was drawn up by United States congressmen in 2011, claiming that the British embassy in Moscow already had all the relevant names and would be referring to the "Magnitsky list" when processing visa applications.
Initial discussions about legalizing the blacklist, which were introduced by U.S. Senator Benjamin Cardin, date back to October 2011. The official proposal to introduce sanctions against the Russian functionaries and law enforcement agents involved in the Hermitage Capital case was only submitted to the Government by House of Commons representatives in March 2012. David Cameron's government put the initiative on hold.
The United States is expected to pass the Magnitsky bill shortly, as it has enjoyed wide support among Republicans as well as Democrats in both Houses of Congress. The U.S. has already adopted unofficial sanctions that were put forward by the Department of State to refuse entry to 11 blacklisted Russians, whose names remain unknown.
Two more EU states may introduce sanctions against the Russian officials, in line with a European Parliamentary resolution that advises member states to impose an EU entry-ban for Russian human rights abusers involved in the Magnitsky case. In March 2012, nearly 60 Swedish deputies addressed Prime Minister Fredrik Reinfeldt, asking him to enforce the blacklist; the Netherlands motioned a similar initiative in July.
Sources in the Russian Government and Foreign Ministry have warned on several occasions that, should the United States pass the Magnitsky Act, Moscow will respond with 'far-reaching and exceptionally harsh' actions.
First and foremost, this implies introducing reciprocal measures – expanding Moscow's list of personae non grata from the United States and, perhaps, from other countries as well.
The text is based on articles from Kommersant Daily and RIA Novosti.
All rights reserved by Rossiyskaya Gazeta.