Happy birthday Moscow – 865 years young!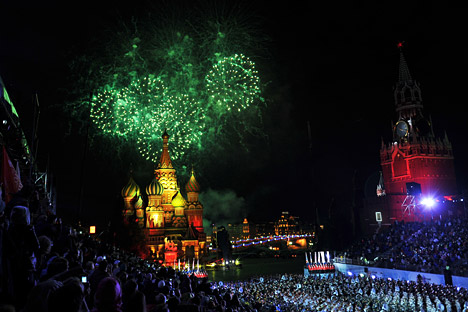 Fireworks for City Day after the opening of the International Military Music Festival "Spasskaya Bashnya" on Red Square in Moscow. Source: RIAN.
I've tried to unearth some auspicious fact associated with this number, but the best I can provide is that my copy of Anna Karenina has 865 pages, which will have to do.
Auspicious or not, that didn't stop the hordes coming out onto the streets in celebration of their city, and in the hope of catching one last glimpse of the dying summer. Dreams of a final heatwave were quelled by the icy wind blowing through the alleys and boulevards, and the sight of the first golden leaves.
Still, the variety of events over the weekend kept everyone distracted, as people were able to choose between plays, music, art, and general entertainment. I was particularly impressed by a show of aerial acrobatics from the French troupe Les Passagers, who performed a conceptual piece on the theme of 'creation'.
As good as this was, it can't really be called a celebration of Moscow or Russian culture, so to get my fix I went to a book fair on Nikitsky Boulevard.
I quickly realized I should have gone to watch the orchestra, as my friend Zhenia rushed around in excitement, buying 10 kilos of books and collapsing in exhaustion on a park bench to pore over his new copy of Kierkegaard, while I remained a mere observer.
He caught me trying to decipher the back cover of a book on Hinduism and directed me towards the children's section with a smirk; "maybe this is more your standard."
From the day I started learning Russian I've been buying books that are still far beyond my ability. I'd just about mastered the basic grammar when I bought my first Tolstoy, which was quickly followed by Sholokhov and Solzhenitsyn, all still unread on my bookshelf.
This weekend was the time when I finally conquered this impulse, and I've decided I won't buy any more until I've finished at least one classic.
Maybe I could try and finish Anna Karenina before Moscow turns 866? That has a satisfying symbolism to it, and only works out at 2.3 pages a day. I'm already 5.6 behind target, so I'd better get reading!
All rights reserved by Rossiyskaya Gazeta.