India's second moon mission to depend on Russia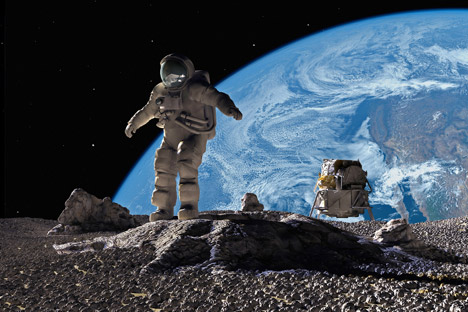 "India will build the lunar orbiter and rover. Russia has said they would come to us with a decision after their review," Radhakrishnan said. Source: PhotoXpress
The ISRO chief declined to comment on reports that Chandrayaan-2 would be delayed until 2016.
India's next moon mission will largely depend on Russia, the head of the Indian space agency told reporters on Sunday.
"Russia is reviewing its inter-planetary missions after a failed joint mission with China. For Chandrayaan-2, Russia has to provide the lander," K. Radhakrishnan, chief of the Indian Space Research Organisation (ISRO) said at a press-conference in Sriharikota.
"India will build the lunar orbiter and rover. Russia has said they would come to us with a decision after their review," Radhakrishnan said.

Chandrayaan-2 is planned for 2014 with India's heavier rocket -- Geosynchronous Satellite Launch Vehicle (GSLV). Radhakrishnan told reporters that ISRO will ready the rocket and also the lunar orbiter and rover. He declined to comment on reports that India's second lunar mission may get delayed till 2016.
The ISRO on Sunday launched a Polar Satellite Launch Vehicle-C21 carrying SPOT 6, a 712-kg French earth observation satellite, and Proiteres, a 15-kg Japanese micro satellite, from the Satish Dhawan Space Centre in Sriharikota, making it the agency's 100th mission. The agency has a Mars mission scheduled for 2013.

ISRO is now eagerly looking forward to its Mars mission planned for next year. Denying that India was in race with China for the Mars mission, Radhakrishnan said: "Mars mission is a challenging one where we will develop new technologies."
Chandrayaan-1 was India's first unmanned lunar probe. It was launched by the ISRO in October 2008, and operated until August 2009. The mission included a lunar orbiter and an impactor.
The plan for Chandrayaan-2 (or Luna-Resurs, as it is known at Roscosmos) foresees India's GSLV taking an orbital module to the Moon, with a Russian-made lander (designed by the Lavochkin Science & Production Association) carrying a small Indian rover on board.
The mission is aimed at exploring lunar soil at as far a distance away from the landing site as possible, and confirming the presence of water there.
Delay in Chandrayaan-2?
While ISRO's Radhakrishnan declined to comment on potential delays for Chandrayaan-2, Russian scientists have said that the mission may be delayed to 2016.
Officials of the Russian Federal Space Agency (Roscosmos), which will be providing the lander for the Chandrayaan-2, said earlier in the year that the failure of the Russian Mars mission in January would cause a delay in the construction of the lander.
Academician Lev Zelyony, head of the Russian Space Research Institute, said in February that the Luna-Resource lander may not be ready till 2016. "There were plans to launch the Luna-Glob and Luna-Resource missions in 2015," Zelyony told RIA Novosti earlier this year. "But the dates may have to be moved, as the technical solutions that were used with NPO Lavochkin's Phobos-Grunt were also used in the lunar projects and they clearly need to be reviewed."
The Phobos-Grunt spacecraft, launched in November to retrieve soil samples from the Martian moon Phobos, became stuck in Earth's orbit after its engines failed to fire and crashed back to Earth in January. A Russian government commission set up to investigate the probe failure blamed it on a burst of heavy charged space radiation that caused the onboard computers to reboot and go into standby mode.
All rights reserved by Rossiyskaya Gazeta.