Russian titanium giant VSMPO-Avisma eyes India projects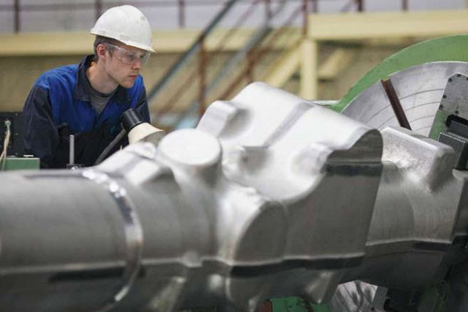 VSMPO-Avisma Corporation produces titanium, aluminum, magnesium and steel alloys. Source: Press Photo
Indian delegation visits the Verkhnyaya Salda-based company's facilities to explore potential areas of cooperation.
VSMPO-Avisma Corporation, the world's largest titanium manufacturer, said it was looking at working on several projects with Indian partners. The Verkhnyaya Salda-based company recently hosted an Indian delegation that visited the mechanical processing unit, the forging complex the seamed tubes production unit.
VSMPO-Avisma's profile
VSMPO-Avisma Corporation is the world's largest titanium producer. Located in Verkhnyaya Salda, Russia, VSMPO-Avisma also operates facilities in Ukraine, England, Switzerland, Germany and the United States. The company produces titanium, aluminum, magnesium and steel alloys. VSMPO-Avisma does a great deal of business with aerospace companies around the world, such as Boeing and Airbus.
The Indian delegation consisted of representatives from the Russian-Indian Science and Technology Centre, employees of India's Ministry of Science and Technology and executives from the state-owned Mishra Dhatu Nigam Limited (Midhani), which specialises in the production of specialised metals and metal alloys.
During the meeting with the delegation, Director General of VSMPO-Avisma Mikhail Voevodin spoke of the negotiations that the Russian titanium manufacturer had previously held with Midhani. Veovodin said cooperation between the two sides would prove to be very fruitful. The previously-held negotiations resulted in the signing a memorandum of Russian-Indian cooperation between VSMPO-Avisma, Midhani and the Russian-Indian Science and Technology Centre.
The memorandum calls for the implementation of joint projects that would help promote high-tech titanium products in promising sectors of the global market.
"Today we are talking not so much about creating a specific joint venture as we are about working out the directions where we can cooperate both at the company level and at the country level," Voevodin said. "The areas that were identified during the negotiations are aviation, automotive industry and energy, among others. We will find out soon what kind of collaboration this meeting will result in."
Digbijoy Giri, deputy director of Midhani shared Voevodin's sentiments. "VSMPO-Avisma Corporation is the largest company in the world that produces titanium alloys. If we team up we can become a global giant in the production of titanium products. It is profitable to use a well-established technology for the production of titanium thanks to the time saved in the processing chain," Giri said. "The experience of the corporation in titanium and other industries may be useful in establishing a joint Russian-Indian enterprise."
The Director and Chairman of the Russian-Indian Science and Technology Centre G. Sundararajan said the members of the delegation found the visits very informative and interesting. "Our next task is for the Russian-Indian Science and Technology Centre to find potential customers in India who will be interested in Avisma Corporation technology... And of course, the best evidence of the successful outcome of this visit will be the start of a joint Russian-Indian enterprise."
First published in Russian in Metalinfo.ru.
All rights reserved by Rossiyskaya Gazeta.