Russia is building a "bridge to Asia"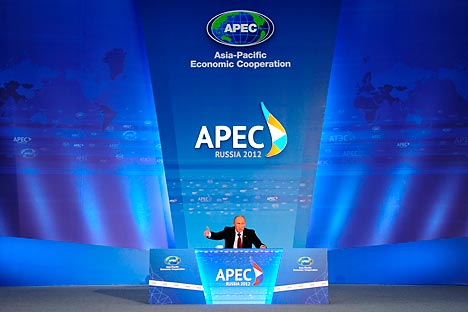 President Vladimir Putin said he was happy with the outcome of the APEC summit. Source: RIA Novosti
Speaking at the closing news conference in Vladivostok President Vladimir Putin said he was happy with the outcome of the APEC summit, which he hailed as the most productive such gathering to date.
On Sunday the leaders of the 21 participating nations adopted a joint declaration which many see as an integral part of Russia's program of integrating into the Asian economy. As the host of the summit Russia determined the meeting's agenda and outlined its priorities in various cooperation areas, all of which are fully reflected in the final declaration.
The bottom line of the weeklong gathering is that Russia is making Asia its economic priority and will seek to make APEC a major trade partner, just like the EU has been in the past decade.
Putin also said that Russia would be moving onto the Asian market along with its Customs Union partners Belarus and Kazakhstan.
"Developing regional economic integration is a strategic choice made by Russia and we will implement it in the best interest of this country and its partners in the Customs Union and the Common Economic Area with an eye to setting up a Eurasian Economic Union. What I am saying is that in Vladivostok Russia was representing its own interests and also those of Belarus and Kazakhstan.
The joint declaration we adopted here prioritizes trade liberalization, economic integration, food security, transport and logistics and cooperation in the area of innovations.
The goals we have set ourselves here are really immense, sometimes it seems they are too big to be true… Our Vice Premier Igor Shuvalov says that within the next 5 to 10 years Russia plans to turn the Asia-Pacific region into its number one trade partner. To make this happen we have to do better than the EU, which now accounts for over half of this country's trade turnover..."
To this Putin added that no artificial reorientation from West to East was being mulled. "What we are going to do is to respond to a fully natural process," the president said.
"As to our plans to shift our cooperation priorities to Asia and the Pacific, this is a natural process, which is already happening. Right now our trade turnover with Europe is over 50 percent and only 24 percent with the Asia-Pacific region… But as the region's economic growth continues, this figure change and, realizing full well what is going on, we need to get ready. And we are already doing this by expanding the capacity of the Trans-Siberian and Baikal-Amur railways, by building new seaports and power generating facilities."
The "window on Europe" being already there, Russia is now building a "bridge to Asia"…
All rights reserved by Rossiyskaya Gazeta.