Dmitry Rogozin: Breakthrough in space possible if top priority is given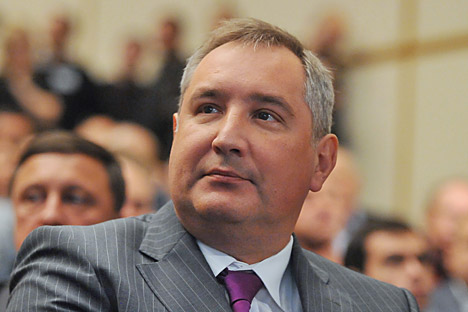 Dmitry Rogozin: Russians have always believed that they live in the "space superpower" that launched the first satellite and put the first astronaut into near-Earth orbit, but now there are seven accidents in the space of 18 months. Source: ITAR-TASS
Deputy Prime Minister Dmitry Rogozin believes that Russia's space industry needs to set a huge goal to avoid a crisis: He proposes a lunar space station.
Rossiyskaya Gazeta: Dmitry Olegovich, are we capable of such a massive project? Is there a way out of the space industry's deep crisis?
Dmitry Rogozin: The situation is certainly not easy. We have always believed that we live in the "space superpower" that launched the first satellite and put the first astronaut into near-Earth orbit. We have achieved great success, but now all of a sudden there are seven accidents in the space of 18 months – six last year and one in August. At the heart of the matter, it's clear that the problem does not lie with the quality of the technology. It's more like a skin rash that breaks out from time to time: you can treat it cosmetically, but it would be better to treat the root of the problem medically, so that it goes away for good.
The details are beginning to emerge. But I can tell you what's going on: the industry has bitten off more than it can chew. Russia is still a ways off of matching the economic muscle of the United States.
In view of this gap, we need to proceed carefully. Russia's space industry is home to a cluster of corporations, factories, and enterprises that produce similar products. This being the case, only about 50 percent of the industry's capacity is utilized. And our quality control is inadequate. Sweeping reforms are required, but how do we get the ball rolling? By launching a quality control campaign? Yes, that would be good, but, at the same time it, wouldn't achieve much. There is only one main task: Russia must finally say what it wants from space and define a set of strategic objectives.
This overarching task should frame economic policy, holdings and sub-holdings, and much more. There should be a pyramid structure: one "super-task" at the top underpinned by three tasks in the second row, five in the third, etc. Then it will become clear what delivery systems, engines, and small, medium, heavy and super-heavy missiles we need, and the launch sites required. Elementary order needs to be restored in the mind.


I will not pretend to be a space industry expert. But my professional task is to think and act systemically. And it is from a systemic viewpoint that I propose we take on a super-task, something that today may even seem slightly fantastic—for example, the construction of a lunar base. We know how to operate in near-Earth space on board the International Space Station (ISS). Why not try to replicate this on Earth's only natural satellite and carry out the same sort of work as the ISS from there? It's a fascinating scientific and technical challenge, which, if successful, will open the door to fundamental and applied research on a new level. It will be the basis for further breakthroughs. That is my proposal, and other suggestions may be voiced. We need to hash out a set of values that we can believe in. It's a hugely prestigious political task, which, personally, I think is within our grasp.
RG: Who can make such a tremendous breakthrough? After all, top engineers are few and far between.
Dmitry Rogozin: That's very true. For that reason, the Security Council decided to support an idea conceived of by the Military-Industrial Commission (MIC), which I chair. We will create a 1000-strong workforce for Russia's defense industry. We'll search for the right people, even in the private sector. Right now we're setting up a special council on public-private partnerships under the MIC to attract private investors. I believe the energy they could bring to the defense industry could jump-start quality production and mark a revolutionary leap forward.
First published in Russian in Rossiyskaya Gazeta.
All rights reserved by Rossiyskaya Gazeta.