Russian ruling class may be forced to say goodbye to foreign assets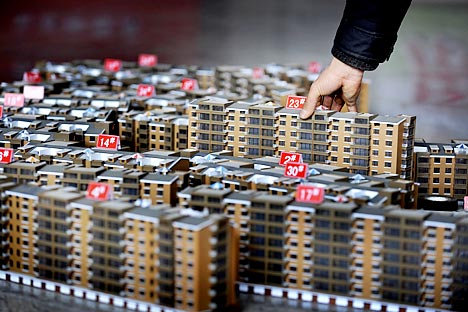 Many top civil servants will just step down to opt for a mansion abroad, experts say. Source: ITAR-TASS
A bill of amendments to the law pertaining to Civil Service prohibits all civil servants, parliamentarians and security officials from having real estate or bank accounts outside Russia.
Civil servants and other members of the ruling class are about to undergo what some have called "compulsory nationalisation" – a ban on having properties and bank accounts abroad. The control of foreign assets of civil servants bill that the State Duma is about to introduce will reorient the ruling elite of Russia towards the interests of developing the country in order to rule out a "double loyalty temptation situation." Many top civil servants will just step down to opt for a mansion abroad, experts say.
At the just-started autumn session the State Duma will consider a bill of amendments to the law pertaining to Civil Service (authored by members of all factions) that will prohibit all civil servants from having real estate outside Russia or open accounts in foreign banks.
The law, should it be adopted, will apply to municipal and federal level officials, including police and security officers, State Duma members and members of the Federation Council. They will have no chance of purchasing securities outside Russia, opening cash accounts or owning properties abroad. The restriction will not only concern government officials, but also members of their families – spouses and children, who are minors.
The exceptions are few – if the foreign property in question is crucial to performing one's professional duties, or if the government official needs medical and educational services outside Russia. Officials will have six months to sell up foreign apartments and houses and transfer accounts to Russia. Violations of this law will be punishable with a fine of five million roubles to ten million roubles or a prison term of up to five years.
The State Duma may consider the bill in the first reading as early as the end of September. In that case the law will take effect as of January 1, 2013.
According to official declarations, 130 high-ranking Russian Government officials have real estate abroad. Among them, First Deputy Prime Minister Igor Shuvalov, who owns properties in the United Arab Emirates and Austria and an apartment in Britain. Deputy Prime Minister, presidential representative in the North Caucasus Federal District, Alexander Khloponin, owns a family home with outhouses in Italy. And the minister for the affairs of the open government, Mikhail Abyzov, has a garage and an apartment in Britain.
Among the members of the Federation Council there are many of those who have properties abroad. For instance, FC member from Buryatia, Vitaly Malkin, and his wife are co-owners of a plot of land of 20 hectares in Italy. Also, they have a family home in Italy. The senator from the Ulyanovsk Region, Sergei Bazhanov, and his wife have apartments in Finland and France and a villa in France. And State Duma member Mikhail Slipenchuk, of the United Russia party, owns two family homes having a total floor space of 900 square metres and two plots of land of 1,549 square metres in Congo and an apartment in France (94 square metres).
All rights reserved by Rossiyskaya Gazeta.