Russia's Paralympic team more than surpasses its Beijing performance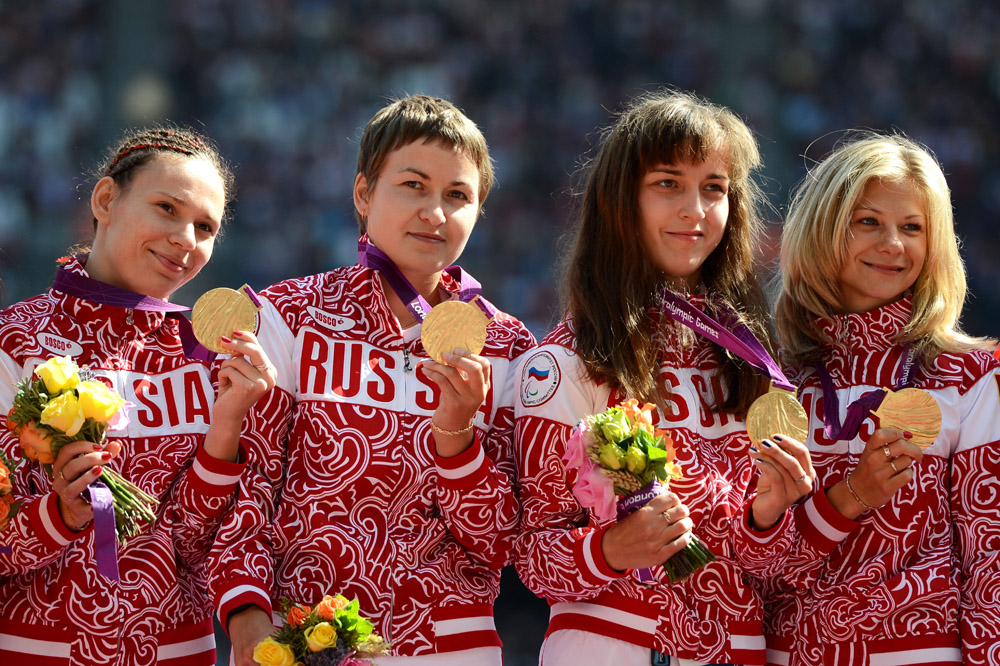 Russian Paralympians double their Beijing gold tally at the London Games. Source: RIA Novosti
The London 2012 Paralympic Games came to a close, with the Russian team finishing second in the medals table. Russia won twice as many gold medals as they captured in Beijing four years ago.
The London Paralympics came to an end almost a month after the 2012 Olympics closed. Russian Paralympians made an incredible breakthrough in the four years since the Beijing Paralympics, winning almost twice as many medals in London as they did in China. Russia doubled its gold medal count to 36 ( up from 18 four years ago), enough to climb to second place in the medals table. Russia won the third most medals overall, behind team Great Britain, which hauled in 118 medals. The Chinese still dominated in all respects, winning an amazing 95 golds, 71 silvers and 65 bronzes.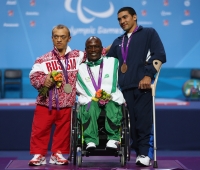 "We weren't promising gold medals before the Paralympics began; our main goal was to take a step forward," Vladimir Lukin, President of Russia's Paralympic Committee, said. "After Beijing, we decided to try to and move into the elite of the Paralympic sport – and this is precisely what we have done. This way, we have also taken that step forward."
Russian swimmer Oksana Savchenko won five gold medals: in the 50-meter freestyle, the 100-meter backstroke, the 200-meter individual medley, the 100-meter freestyle and the 400-meter freestyle for visually impaired competitors. She set new world records in all five of her events. Oksana now has eight gold medals, having won three in the previous Beijing Games.
Russian flag bearer, track-and-field athlete Alexey Ashapatov, won two gold medals – one in the men's shot put and the other in the men's discus throw for wheelchair users. The two-time Olympic champion from four years ago won the gold for discus throw in London, with a new world record of 60.72 meters and on the way to a score of 1,043 points for all attempts; he was well out of reach of the runner-up, Czech Rostislav Pohlmann. Ashapatov also set a new Paralympic record in the men's shot put with a 16.20 meter throw, half a meter ahead of Pole Janusz Rokicki.
Ashapatov once again proved his fantastic sporting spirit. He lost his leg as a result of an injury in 2002, but continued his career in sports. He became a master of sport in sitting volleyball, master of sport in arm wrestling and merited master of sport in athletics.
Sprinter Fedor Trikolich won two medals in London. He took the 100m T12 crown with a new personal best of 10.81 seconds, and he finished second in the men's 200m T12 with a personal best of 21.81 seconds. His silver medal was Russia's 100th medal overall at the London Paralympics.
Russian paralympians also won the Paralympic football tournament, beating Ukraine in the final.
The game was hard, and both teams had their chances. But it was Eduard Ramonov's goal in the closing minutes of the first half that proved to be decisive. In the tournament, the Russian team beat Argentina and the Netherlands with an identical score of 8-0, before defeating Brazil 3-1 in the semi-final.
"Overall, we have performed exceptionally well, and this proves that the many years of hard work are bringing results. These Paralympic Games show that we are moving in the right direction. It is not winning medals that is the most important thing; it is what these medals bring to our country and the people who live here," said Lukin.
The Paralympic Committee President said that the breakthrough did not mean Russia would stop moving forward. "We have our strengths and weaknesses. We are good at swimming, athletics, and our archers performed well. However, there are some events that we have just started developing, and that's why we only took part in 12 of the 20 Paralympic events," Lukin said.
It is very hard to compete with China right now – its dominance at the London Games looked unshakable. However, Russia's progress at this year's Games gave the country a good reason to feel satisfied. The breakthrough in London, which saw the ascension of Russia into the elite of Paralympic sports, has encouraged decision makers and given athletes confidence.


First published in Russian in Gazeta.ru.
All rights reserved by Rossiyskaya Gazeta.