The glitter of Yakutian diamonds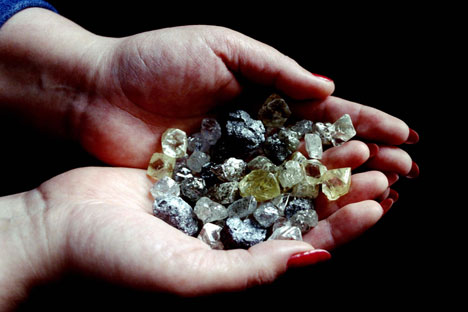 Jewellery made in Yakutia has won several international awards. Source: Reuters/Vostock photo
The tourist season in Yakutia ended with a fascinating tour named 'A Diamond Week in Yakutia.' The authorities hope the tour puts the Russian republic on the international luxury tourist map.
'A Diamond Week in Yakutia,' a special tour of the republic's diamond industry is unique because the Sakha Republic, or Yakutia, is the only region in the world where diamonds are not only mined but cut, polished and mounted to locally designed jewellery. Jewellery made in Yakutia has won several international awards.
The latest tourist project was initiated by the Yakutian Ministry of Entrepreneurship and Tourism, which believes that the world should associate Yakutia with diamonds because 26 percent of the world's diamonds are mined there. The novelty and magic of the Yakutian tour is that the participants see all the stages in the making of jewellery, from the gigantic open pits of kimberlite, the diamond-bearing ore, to stone-cutting workshops and jewellers' studios.
The tour ended with a display of jewellery and a cocktail party, where invitees could buy diamond- jewellery. This, however, is not just a shopping tour, it is a new idea in theme-based tourism, according to the Deputy Minister of the Yakutian Ministry of Entrepreneurship and Tourism Yelena Kurbangaliyeva. "Many travel agencies organise diamond-associated tours but only our republic can demonstrate the full cycle. We invite all of you to Yakutia's Diamond Week which will be annually held in August," Kurbangaliyeva says.
The participants in the tour had a stroke of luck. They had an opportunity to stand on the brink of the Mirny open pit which is the largest man-made pit in the world. It is 525 metres deep and has a diameter of 1,300 metres. The pit can even be seen from space. At the Mirny Diamond Sorting Centre, an organisation with the strictest regulations in Yakutia, the tourists were told that diamonds were evaluated on 8,000 points. In the Diamond Collection rooms the tourists saw diamonds of 350 carats and platinum nuggets.
One of the main organisers of the Diamond Week is Pyotr Fyodorov, owner of the EPL Diamond Corporation, which cuts diamonds and makes and sells jewellery. Fyodorov's father and grandfather were also jewellers. Pyotr named the company himself and gives us the following explanation: "EPL are three esoteric letters with a deep meaning. At first, it was just the abbreviation of 'experimental production laboratory'. Then we interpreted it as 'energetic powerful legion'. Now you can understand it as 'elegant present to your love'. Why not?"
Pyotr Fyodorov is quite right, otherwise his diamonds would not be bought by the U.S., Israel and China, and the Gemological Institute of America (GIA) would not have graded them 'Triple Excellent.'
All rights reserved by Rossiyskaya Gazeta.