India looking to promote Yoga and Ayurveda in Moscow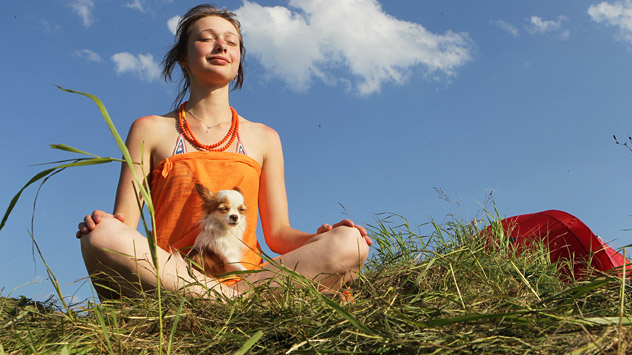 India is taking the initiative to make yoga more accessible across Russia. Source: AlexeyKudenko / RIA Novosti
The Indian mission has discussed promoting Yoga and Ayurveda in Russia with the Russian State University for the Humanities.
Considering how much a part of Russian life yoga has become, the physical, mental and spiritual disciplines of the ancient science are now the biggest proponents of Indian soft power in the country.
Long before then-Russian President Dmitry Medvedev tried to popularise yoga in 2008, several yoga centres had come up in cities from St Petersburg to Vladivostok. Yoga, like other lifestyle activities in Russia, though has become an expensive affair with a 1-hour session in Moscow costing anything from US$ 40 to $200 depending on the venue.
Given this backdrop, India is taking the initiative to make yoga more accessible across Russia. This week, India's Ambassador to Russia Ajai Malhotra and Efim Pivovar, Rector of the Russian State University for the Humanities (RSUH) discussed potential initiatives to promote yoga and ayurveda in Russia and the cooperation between RSUH and Indian institutions.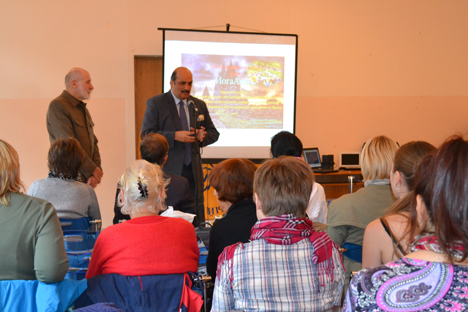 Ambassador Malhotra welcomed the initiative taken by RSUH to promote ayurveda and yoga.
On September 10, the RSUH organised "Yogayush," an evening dedicated to yoga and ayurveda. Ambassador Malhotra, who was the chief guest at the programme, expressed satisfaction over the ongoing cooperation between the RSUH and Indian institutions through the Indian Embassy in Moscow. The Indian Ambassador also recalled the successful establishment of the ICCR Chair of Indian Studies at RSUH earlier this year and confirmed that another Indian Professor would teach a full semester on Indian Studies at RSUH in the first half of 2013.
Opening "Yogayush", Professor Pivovar thanked Ambassador Malhotra for being the Chief Guest at the event, which was organised as part of RSUH's academic cooperation with India. Professor Alexander Stoylarov then introduced Ambassador Malhotra, who welcomed the initiative taken by RSUH to promote ayurveda and yoga. He pointed out the usefulness of yoga and ayurveda in our day-to-day life, pointing out that "they provided a holistic and balanced approach to health and well being."
K. V. Dilipkumar, Professor and Head of Department, Swasthavritha Ayurveda College, Kottakal and Dean, Faculty of Ayurveda, University of Calicut, Kerala, delivered a lecture on various aspects of Ayurveda. This was followed by a talk on "Yoga in Daily Life" by Dr. Suresh Babu, Yoga Instructor.
With the Indian Government creating better access to yoga and ayurveda programmes, Muscovites may no longer need to pay a small fortune to learn about these great pillars of India. Although, as a Moscow-based yoga instructor told me recently, it's impossible to recreate, in Russia, the atmosphere of a yoga ashram in Rishikesh or the Kottakal Ayurveda Centre in Kerala. Serious Russian learners and practitioners always have the option of going to India to upgrade their skills and knowledge.
All rights reserved by Rossiyskaya Gazeta.