INS Vikramaditya faces further delays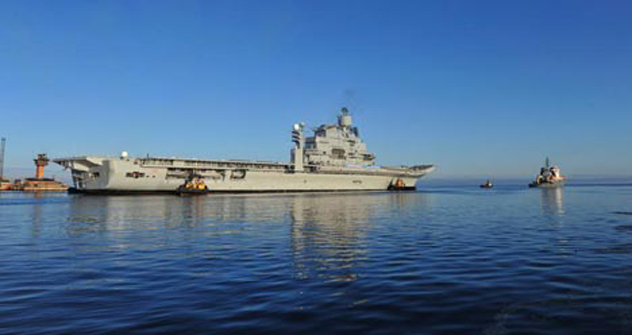 Delivery of the INS Vikramaditya is likely to be delayed by another 6 months. Source: Alexey Popov
Indian sources tell The Hindu that the delivery of the aircraft carrier may face another 6-month delay.
Delivery of the INS Vikramaditya, the refurbished aircraft carrier formerly known as the Admiral Gorshkov, is likely to be delayed by another 6 months, The Hindu said on Friday, citing Indian sources. Flight trials started late and will have to be suspended later this month due to the onset of near-Arctic conditions in the Russian north, the paper said, adding that the trials are expected to resume when the weather relents in March, 2013.
Russian sources told the paper that there was a "slight difference in formulation." The flag-raising ceremony on the gigantic ship will be held on the designated date in December and an Indian crew will start taking over operations, according to the paper.
"This is what happened with INS Chakra [nuclear powered submarine]. It was given to India two or three months in advance. So when we talk of giving the Gorshkov [now called INS Vikramaditya], it might mean raising the flag and an Indian crew taking over. It won't reach Indian shores by the end of the year but the crew will be aboard and the official ceremony would have been held," The Hindu cited the Russian sources as saying.
The Hindu also said that Russian President is taking an active interest in the INS Vikramaditya's progress. "Mr. Putin's intervention did help and this delay will be an embarrassment to him because he had intervened to get the project back on rails. We will also face an extremely difficult situation because of this," Indian government sources told the paper.
The delivery of the aircraft carrier has been delayed by four years and the refurbishment cost of the partly-gutted ship, given free to India as a goodwill gesture, has almost doubled. This led Prime Minister Manmohan Singh to mention the matter to Putin when they last met, according to the paper.
The issue is unlikely to figure during Russian Foreign Minister Sergei Lavrov's visit to India on October 4, the paper said, adding that it would will be on the table when Dmitry Rogozin, arrives in India on October 15 to discuss military matters with Indian Defence Minister A.K. Antony.
The cost escalation happened because both sides were in a hurry to seal the deal in 2004 with the Russian shipyard facing an acute financial crunch and Indian negotiators under pressure to sign the contract before the general elections that year, according to the paper.
All rights reserved by Rossiyskaya Gazeta.