Russian 'super-holding' company to develop Hypersonic Missile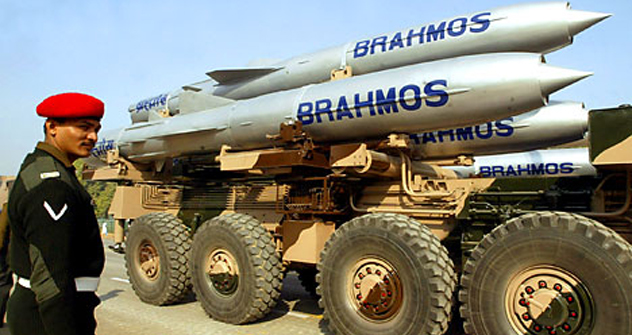 PO Mashinostroyenie is also the Russian partner in the BrahMos joint venture with India to develop the BrahMos supersonic cruise missile. Source: Reuters/Vostock
Brahmos partner Mashinostroyenie part of company developing the hypersonic weapon technology.
Russia will set up an aerospace 'super-holding' company consisting of missile makers NPO Mashinostroyenie and Tactical Missiles Corporation to develop hypersonic weapon technology, Deputy Prime Minister Dmitry Rogozin said on Wednesday.
"Initially, we are talking about a big 'super-holding' based on Tactical Missiles Corporation and NPO Mashinostroyenie," said Rogozin, who oversees Russia's military-industrial complex. Discussions on the creation of such a super-holding have been underway at least six months, Rogozin said. NPO Mashinostroyenie is the Russian partner in the Indo-Russian joint venture Brahmos.
"We have found an acceptable solution on how to form this super-holding," Rogozin said. "The main idea for this holding is hypersonic technology."
Development of hypersonic weapons - meaning those capable of flying at several times the speed of sound, generally with scramjet engines - has been a pet theme of Rogozin. In May, during a visit to Tactical Missiles Corporation's NPO Raduga missile design bureau, Rogozin called on Russia's defence industry to develop hypersonic air-breathing weapons as a future strike system.
He picked out American development work in the X-51, Falcon, HiFire and HyFly programmes as examples of what he described as the perspective threat posed by U.S. hypersonic development work.
"The undertaking of this work allows us to lay the basis for the creation of a national competitor in hypersonic weapons," he said. The deputy prime minister has since frequently repeated his call for hypersonic weapons to be developed as a replacement for the Russian Air Force's existing long-range bomber fleet.
"I think we need to go down the route of hypersonic technology and we are moving in that direction and are not falling behind the Americans," he said on Rossiya 24 TV in August. "We will use this technology when developing a new bomber."
"The question is whether we will copy the Americans' forty-year experience and create a [Northrop] B-2 analog...or will we go down a new, ultramodern technology route, looking to the horizon, and create a machine able to penetrate air defenses and carry out a strike on any aggressor," he added.
Aerospace analysts contacted by RIA Novosti say hypersonic technology is more likely to be relevant to an air-launched weapon itself, rather than a manned aircraft.
Tactical Missiles Corporation, based in Korolyov, Moscow Region, was formed in 2002 by amalgamating a number of defence design and production enterprises, of which the main ones were Korolyov-based Zvezda-Strela (tactical air-to-surface missiles), Moscow-based Vympel (tactical air-to-air missiles), NPO Raduga (cruise missile design), and Region (tactical air-launched weapons).
NPO Mashinostroyenie, based at Reutov just east of Moscow, has designed and produced most of the Russian Navy's submarine-launched cruise missiles as well as satellites and other space systems, and has previously conducted extensive research into hypersonic weapons technology, including making a prototype hypersonic air-launched missile called GELA.
PO Mashinostroyenie is also the Russian partner in the BrahMos joint venture with India to develop the BrahMos supersonic cruise missile, based on the Russian 3M55 Oniks. BrahMos has said it is developing a hypersonic successor system to its existing supersonic missiles in partnership with India.
All rights reserved by Rossiyskaya Gazeta.