Anna Kournikova: Still living large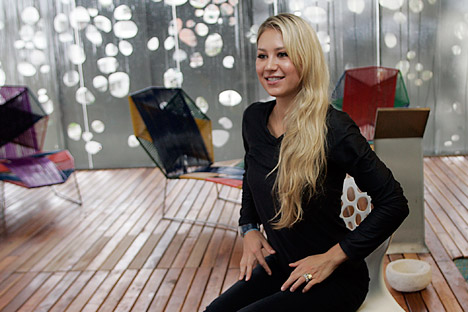 Anna Kurnikova is the richest (according to Forbes) and most beautiful (according to People magazine) people on the planet. Source: Reuters/Vostock
Nine years after hanging up her racket, Kournikova remains in the public glare for activities that range from charity to promoting fitness consciousness among children.
Kournikova has been (and still is) accused of many things in her life. Critics say she missed her chance to become a tennis great and walked away from the game too early when she still had a promising career ahead. Kournikova has also been accused of falling for the temptations of show business. Instead of making her fortune through hard work on the tennis court, she chose advertising, by using her natural gifts of long legs and stunning golden hair.
But during the years since her retirement, Kournikova has been proving time and again that she's not a bimbo; she's just different, one of a kind. "Forgive me for being who I am", she always tells her critics.
Kournikova's tennis career got off to an auspicious start. She picked up a racket for the first time when she was five. She liked tennis right away, but for a long time she treated it as a hobby. She was seven when she realised that she had extraordinary talent. She started training more seriously, and a year later won an open tennis tournament in Moscow. It was at this time that she also started competing in international tournaments. At age 10, she was offered a scholarship at the famous Bollettieri tennis academy in Florida.
In 1991, Anna moved to America with her mother, where she left a lasting impression on one of the game's most prominent coaches, Nick Bollettieri. "Anna is the most promising young talent around," he once said. We have seen Agassi, Courier, Seles, but I'm absolutely delighted with the way Kournikova plays."
Fact
Anna Kournikova is a Russian retired professional tennis player. Her beauty and celebrity status made her one of the best known tennis stars worldwide, despite her never winning a WTA singles title. At the peak of her fame, fans looking for images of Kournikova made her name one of the most common search strings on Google.
Success came quickly. At 14, Kournikova became the youngest player ever to win a Federation Cup match, and at 15 she won the world junior championship. At 16, she reached the Wimbledon semifinals in her first attempt (something only Chris Evert had managed to do before).
The following spring, she became (and remains) the only female tennis player to beat four Top 10 players in four days. Three months later Kournikova beat Steffi Graf on grass – only three players managed to do this throughout the 1990s. At 19, she finished the season in the Top 10 for the first and last time. This is when her short-lived tennis fame came to an end. She would still win the Australian Open doubles title two years later, but the dreams of those who saw her as the next big champion never came true.
"Tennis is my life, I practice every day. But I can't return to professional tennis. I've broken my leg on numerous occasions, dislocated my knee, and hurt my back", Kournikova once confessed to journalists.
Even though tennis didn't become a life-long career for Kournikova, it did serve as a springboard. By the time she finished her career, she had long ceased being a mere tennis player – she had become a global brand.
By the age of 22, not only had she become one of the richest (according to Forbes) and most beautiful (according to People magazine) people on the planet, she had also co-starred in a movie with Jim Carrey and been named "the sexiest woman on the planet". Kournikova has rung the opening bell at the NASDAQ stock exchange and hosted the World Music Awards ceremony.
A 2001 internet virus used the promise of a "never-before-seen" photo of Anna Kournikova as bait. A little later, a poker hand of ace and king was dubbed "Anna Kournikova", because "it looks pretty but it never wins".
Today Kournikova lives in Miami with her pop star boyfriend, Enrique Iglesias, whom she met in 2002 on the set of the video for his hit song "Escape". She says that she is completely happy: "We have two dogs, but we haven't thought about kids yet. I would like to have kids – my own or adopted. But I'm only 31 – there's still time," she confessed recently to the Spanish fashion magazine S Moda.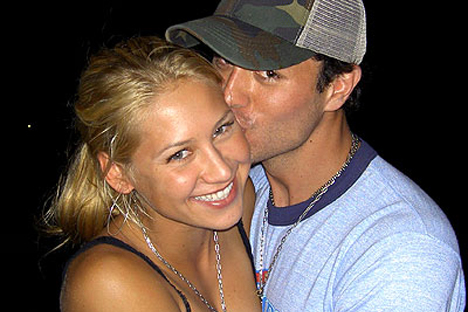 Today Kournikova lives in Miami with her pop star boyfriend, Enrique Iglesias. Source: Press Photo
Kournikova still attends celebrity parties and occasionally does photo shoots for glossy magazines. But the star has made it clear that none of this is important. She turned down a proposal to host The Biggest Loser, a popular American TV show, because she didn't want to move to LA for that. "I like sailing, dining with friends, sitting on the sofa watching TV… I'm happy in Miami," Kournikova said.
Kournikova attaches far greater importance to "good deeds". She has started actively promoting a healthy and active lifestyle, especially among younger Americans. Together with the popular children's channel Cartoon Network, she has launched a campaign to get kids off the sofa and involve them in some kind of healthy activity, even if it isn't sports.
Anna has also worked with charities. She visited different Russian cities as part of an AIDS awareness campaign with Population Services International delegations, and also took part in a malaria-fighting mission in Haiti. Anna also tours US military bases as part of the United Service Organisations Programme to entertain troops.
All rights reserved by Rossiyskaya Gazeta.