RuArt's gallery space in central Moscow seems an unlikely venue for an exhibition on the theme of Noir: It's an airy place, with long corridors, abundant natural light, and a sense of possibility, all in line with RuArt's aim to encourage the development of contemporary art.
But for the ongoing show, the mood is brooding and sultry, as art director and curator Catherine Borissoff brings together 12 artists in an exploration of a concept she feels is defined by "sexual tension, eroticism, and sadness."
The exhibition is very much a philosophical investigation of Noir, and Borissoff said that the famous Hollywood films should not constrain our reactions to this genre. In her opinion, "Noir is an emotional state, and it's present in everyone."
The familiar tropes are certainly recognizable in her artists' interpretations, but they are updated and redefined.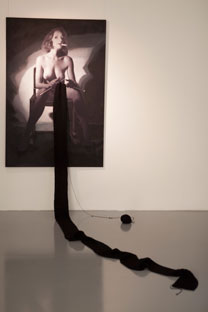 Vita Buivid's portrait of a naked woman. Source: Press Photo.
The first painting you see as you enter the exhibit is Vita Buivid's portrait of a naked woman wearing high heels, taken from the series "Prime Time." What is surprising is the fact that she is knitting a long black scarf, which is physically attached to the canvas and rolls off along the floor. A cigarette lazily droops from her mouth and her expression is one of calm defiance. Knitting, perhaps one of the archetypal homely activities, becomes an expression of empowerment and sexuality when put in the hands of this domestic femme fatale.
Next to this work are Vladimir Glynin's expressive stills of ballerinas performing Swan Lake, their melancholy and beauty representing a traditional vision of femininity in Noir.
Borisoff is keen to stress that her view of Noir is "not purely black and white, light and dark, but a combination of the two." For her, heroes and villains "aren't positive or negative, they have characteristics of both. Noir should simultaneously attract and repel you."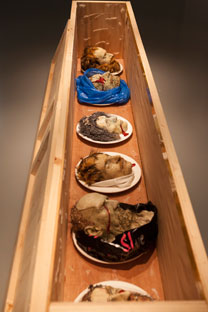 "The Heads of Heroes" by Dmitry Tsvetkov. Source: Press Photo.
The showpiece representation of this is the work of Dmitry Tsvetkov, a recent nominee for the Kandinsky Prize, who shows the violent side of the genre through his series "The Heads of Heroes."
He presents us with the severed heads of figures familiar to a Western audience, such as Marie Antoinette, and Cleopatra, and those less familiar such as Emelyan Pugachev, who led an insurrection against Catherine the Great.
Here villainy is transformed into an aesthetic experience, with streams of blood made of beads, and pearls representing teeth.
The concept of the leading man is also explored as Vitaly Pushnitsky, another participant in the Kandinsky Prize, cuts patterns into photographs of classical statues and religious iconography, partially distorting the images and making us reconsider representations of famous historical figures.
Such a historical range represents Borisoff's vision that Noir is timeless, that its cynicism, frustration, and bleakness have long been part of humanity and never more so than in the present climate.
For Borisoff, Russian society is poised to re-embrace the concept of Noir: "I saw the internal tension in society, the pessimistic mood, and I realized that Noir is more than an artistic genre or the color of your clothes, it's a state of mind. I realized that quite a lot of people are in this state, and I want this exhibition to inspire people to embrace Noir, to include it into their lives as a part of culture."
Long before Noir show, RuArts beat the cynics
In the early 2000s, there were some cynics who darkly suggested that RuArts would not last as long as it takes to read an Elmore Leonard novel.
Marianna Sardarova, better known to some as the wealthy wife of an oligarch, set up the RuArts foundation in 2003 and opened the gallery a year later. At the time the press was mixed, with some sectors expressing skepticism about the longevity of the project.
However, the foundation now boasts a video archive and a library, publishes its own literature, and has investigated a wide range of themes, exhibiting new media and experimental art projects, as well as more traditional forms.
Borissoff isn't one to get complacent about their successes.
"We're putting all our efforts into forming a market," she explained. "The amount of contemporary art enthusiasts is still relatively few."
The Russian art market hasn't fully recovered from the 2008 financial crisis, losing ground to countries such as China, which has now become the world's largest market. The RuArts foundation represents an attempt to invest in the future, working with young artists and helping them gain a foothold in the scene.
Part of their approach is to invite students to events where they can network, and discuss themes. The foundation also sets up meetings with artists, who can share tips and experience with the students.
Borissoff explains that a big source of pride for her and the foundation is that "as a result of our efforts, Russian contemporary artists can participate in domestic and international prizes and exhibitions. Their names are already written into the history of contemporary art in Russia."
This seems like an incongruously upbeat statement to hear in these settings, so I glance over at the severed heads and my inner Noir is reawakened once again.
All rights reserved by Rossiyskaya Gazeta.