Continental shelf exploration: Is Russia ready for it?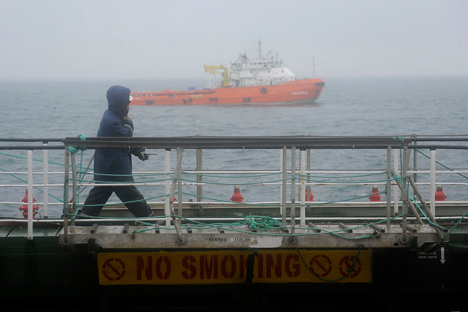 The expert thinks that today the oil and gas sphere has other significant areas, like heavy crude oil and natural bitumen. Source: Mikhail Mordasov
After successful projects in oil projects in Sakhalin, Kaliningrad and the Caspian Sea, Russia ponders over boosting shelf production.
Continental shelf exploration could bring a breakthrough for Russia's energy sector, experts say. To prove their words, this year's St Petersburg International Energy Forum for the first time had a pavilion dedicated to shelf-drilling.
New oil fields are mainly located on the continental shelf. In 2010, the U.S., in pursuit of a new exploration trend, cancelled a 20-year Offshore Drilling Moratorium, and didn't get back to it even after the Gulf of Mexico oil spill, which President Obama called the worst-ever environment disaster for America.
Russia has also joined the shelf race. According to Konstantin Simonov, the head of the Energy Security Fund, Russia has three shelf drilling regions – the island of Sakhalin (projects Sakhalin-1 and Sakhalin-2), the Kaliningrad region and northern waters of the Caspian Sea.
"Sakhalin-1 is a joint project between Russian companies and foreign business consortiums while in Sakhalin-2 Russia's Gazprom is the primary shareholder. Sakhalin is a great project as it shows Russia's potential in exploring new territories and implementing innovation in the fuel and energy complex. The Island also has a cutting-edge gas liquefier."
However, Konstantin Simonov believes that three shelf drilling regions are not enough for Russia. Thus, one of the government's goals should be boosting shelf exploration. Russia's Deputy Energy Minister Pavel Fedorov spoke about measures undertaken in this direction at the St Petersburg forum.
"On April 12, 2012 the then-PM Vladimir Putin signed a decree on boosting shelf exploration projects, including the ones in the Kara Sea. Seismologists are already working in the region and we are likely to do even more than it was planned."
Shelf projects are quite pricey and bear serious environmental risks. The Gulf of Mexico spill was compared to the Chernobyl disaster and BP which owned the troubled rig suffered billions in losses.
Therefore, some Russian experts claim that the time hasn't come for mass shelf exploration in Russia. Professor Boris Tumanyan of the Gubkin Oil and Gas Institute agrees.
"I think that shelf exploration should be left for our descendants. Now, it will cost too much. But we should begin and conduct research."
The expert thinks that today the oil and gas sphere has other significant areas, like heavy crude oil and natural bitumen. Tumanyan believes gas to be the current energy priority.
All rights reserved by Rossiyskaya Gazeta.