Vladimir Putin's Pakistan visit and India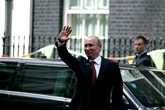 A casual survey of the South Asian media brings forth the uncertain nature of debate about Russian President Vladimir Putin's forthcoming visit to Pakistan and its implications for India. Source: AFP
Russia moving closer to Pakistan does not necessarily imply there will be fissures in Russia-India relations.
A casual survey of the South Asian media brings forth the uncertain nature of debate about Russian President Vladimir Putin's forthcoming visit to Pakistan and its implications for India. Analysts differ as to their prescriptions about the fallouts of the visit, but one can come across expressed concerns about prospects of rising Russia-China-Pakistan axis and consequent decline in bonhomie between India and Russia.
The reasons supplied to substantiate this viewpoint are many, ranging from post-2014 Afghanistan, India's perceived slackening of relations with Russia and moving closer to the US and its diversification of arms sources, the utility of Pakistan for peace and stability in Afghanistan and Central Asia.
Pakistan's relative estrangement with the U.S. in recent months, and its not-so-good relations with China are added as further evidence of a possible rising alliance between Russia and Pakistan, and possible estrangement in Russia-India relations.
This author does not subscribe to such a formulation mainly due to the following reasons. In a multi-polar world, relations between nations cannot be viewed through the old cold war prism or through straight jacket categorisations of positive and negative. Russia moving closer to Pakistan does not necessarily imply there will be fissures in Russia-India relations. The relations are no more guided by zero-sum game calculations rather by non-zero sum game in which neither side absolutely wins or absolutely loses.
As Pak commentator Brigadier (retd.), Farooq Hameed Khan (The News, 11 September 2012) observed, in the context of forthcoming Putin visit, "…improved Indo-Pak ties may turn the tide in our favour." This is not improbable proposition. Instead of Russia going solo with Pakistan in shaping the dynamics of the post-2014 Afghanistan, it may not be farfetched to argue that Russia may be interested to take along both India and Pakistan to forge a large regional balance towards crafting mechanisms for conflict transformation in the region. Like any international political game, such a game will have its risks and advantages, but it will be out rightly imprudent to calculate Russia's gain in Pakistan is India's loss in Russia.
The relations between nations do not remain stand-alone relations; rather they become multi-faceted in the era of globalisation which is more characterized by economic and cultural relations. India may have a deeper cultural niche in Russian society, with having great Russian cultural icons like the Roerichs making India their home, or Indian virtuosos like Raj Kapoor making an imprint in Russian landscape, but the cultural sphere of relations can never be static in the post-cold war world. On a wider scale, it may be argued that whole of South Asia including India, Pakistan and Afghanistan belong to not very segregated cultural panoramas, rather they have many points of convergence. The historical legacies of the region are shared by the people throughout the subcontinent. It is rather the political conflicts such as Kashmir or Afghanistan that subdued the synthetic cultural identity of the region, and fostered the divisions in the regional sphere. Hence, the increasing closeness of Russia and Pakistan, if viewed from a cultural angle, may not be harmful for India. It may bring India and Pakistan further closer. It is understandable that it will not be an easy endeavour keeping in view the rivalry between India and Pakistan. Even then, international politics is not all about pessimism; optimism has its due share in international politics.
During the Cold War it was the emerging US-Pak axis that moved Pakistan away from the Soviet orbit, despite efforts by the Soviet leaders, particularly Leonoid Brezhnev and Alexei Kosygin. Brezhnev's idea to promote an Asian Collective Security treaty was mainly aimed at embracing both India and Pakistan, though it did not work out due to the heavy burden of the cold war. Pakistan moved closer to the US and India moved closer to the Soviet Union. However, despite the rigid bi-polarism permeating all aspects of international life, the role of Soviet leaders in fostering the agreement between India and Pakistan at Tashkent in 1966 marked a successful move by the Soviet leadership to broker peace in the region. The present circumstances may not necessitate such a scenario. Pakistan's growing differences with the US may push Pakistan's leadership to think of moving closer to the US. But Russian leader's visit to Pakistan may not necessarily worsen the India-Pakistan equations or India-Russia equations.
It is true that India-Russia relations have gone through many ups and downs in past years. The sluggish Indian bureaucracy and competing polity complicating the Kudankulam Nuclear Power Plant operation, the issues related to arms deals, the slow progress in economic cooperation might contribute to such a perception. In international politics, relations can never be static; they have to move either forward or backward. Even when we say relations are at top gear, it does mean it is static rather there is mutual exchange in various directions at a stable pace. Proclamations of good relations do not hold in vacuum, substance must be added to those proclamations. In the fast changing world, India and Russia need to realise this imperative. Russia's moving closer to Pakistan should work for India as a call to reassess its relations with Russia and seek ways to further strengthen it.
Post-2014 Afghanistan is not only a challenge for Pakistan alone; it is a challenge as well for India, Russia, and for the whole Central Eurasian region. Pakistan's geographic proximity to Afghanistan and Central Asia makes it a strategic pivot in the region, which cannot be ignored. India must take into account these dynamics into account and forge its strategies accordingly.
From a broader perspective, there are certain basic issues which all the three countries have to deal with in their national and international policies. Those include rise of extremism and religious fundamentalism, prospects of cooperation in building North-South corridor and TAPI pipeline, and building mechanisms for peace and stability in the Central Eurasian region. These issues transcend the scope of a particular nation to deal with, thus necessitating the prospects of mutual cooperation. Russia's likely contribution to revival of Pakistan Steel Mills, or building new projects may not only salvage Pakistan's economy, but may also contribute to the factors of growth in that country with impacts on poverty and extremism. Keeping political differences aside, there is in fact significant scope of cooperation between these three countries to cooperate on these above mentioned issues. Pakistan's granting MFN status to India recently has further contributed to such a scenario.
Putin during his visit to Pakistan in October will attend the four-nation summit (including Afghanistan and Tajikistan). The same month he is likely to visit India. This will be his first visit to India after he became President in May this year. A lot will depend on how the three countries India, Russia and Pakistan perceive the emerging realities and forge strategies during the deliberations. There lie both opportunities as well as challenges.
Debidatta Aurobinda Mahapatra is an Indian commentator associated with the University of Massachusetts at Boston.
All rights reserved by Rossiyskaya Gazeta.