New anti-corruption bill may hit civil servants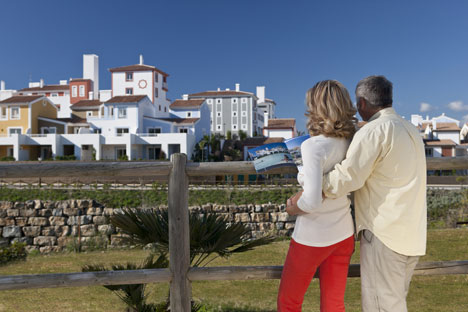 A new anti-corruption bill is hardly likely to be effective because it doesn't expand to distant relatives of Russian officials which creates a loophole to bypass the law, experts say. Source: Getty Images / Fotobank
Moscow is bracing itself for the first blow in a new campaign against corruption– civil servants at all levels may be banned from holding property or bank accounts abroad.
In August, a draft bill was put before the Russian parliament that would force all state employees to close their foreign bank accounts and sell their overseas properties if it comes into effect. The bill covers not only homes purchased by bureaucrats in person but also property acquired by inheritance or as a "gift."
The bill, if ratified, would pertain to state employees of all ranks – from municipal officials to federal bureaucrats, including members of the military and members of both the lower and upper houses of the State Duma. It is possible that interpretation might be broadened to include senior management of Russian state-owned corporations; statements to this effect have already appeared in the Russian press.
Mitigating circumstances are provided for in only a handful of cases. For example, if having overseas property is essential for fulfilling professional obligations, or if the official has to obtain medical or educational services abroad, then an overseas bank account is permissible. Penalties for violations of the rules will, in addition to dismissal from the civil services, run up to 10 million rubles ($321,000) in fines or a five-year jail sentence.
The bill has a good chance of being passed into law by the State Duma, according to Oleg Lebedev of the government's Russian Communist Party faction. The bill was introduced and advanced by a group of lawmakers that includes members from all four of the dominant political parties from the most recent elections. "People support this point of view, so the chances of ratification are high," Lebedev said.
According to opinions sampled by the Russian Public Opinion Research Center, 61 percent of Russians support a complete ban on foreign assets; 28 percent of those polled thought that the right to property and bank accounts abroad should not be annulled, but subjected to separate declaration instead. Nearly two-thirds of respondents supported imprisonment, alongside sackings and fines for violators, while 28 percent would be satisfied with fines or community-service sentences.
Yelena Shestopal, assistant professor of political psychology at Moscow State University, describes the typical social profile of those supporting the ban as inhabitants of smaller towns, with salaries in the vicinity of 20,000 rubles (around $640) and without higher education qualifications. Shestopal identifies the bill's opponents as a more highly qualified group, consisting primarily of Muscovites in the 18–30 age range.
There are no official estimates on the value of foreign properties owned by Russian bureaucrats – although estimates by independent analysts vary widely. For example Maria Tsyguleva, an analyst at the International Financial Holding FIBO Group, suggests that the figure is somewhere in the range of $350 million to $700 million. By contrast, Vladimir Milov, head of the Russian Social Association "Democratic Choice," points to the fact that the Forbes List of Russia's individuals of highest net wealth had recently been joined by state employees.
Mikhail Delyagin, Director of the Institute of Globalization Problems, suggests that the bill will not do its job and is not sufficient to tackle corruption. Delyagin cites the fact that Russian law, at present, defines a family unit to two parents and any children below the age of legal maturity. Adult-age children or parents of a bureaucrat are not taken into consideration. All of this already provides substantial opportunity for sidestepping the tough measures being proposed.
Yet even if the current definition of "close relations" were broadened, it would be rather easy to enlist the services of less-traceable distant relatives. "A raft of legal loopholes exists to prevent distant relatives from hoodwinking the genuine owner of the property, and they'll be listed as the owners in name only" Delyagin said, noting that an entire industry of expertise dedicated to minimizing liability to inheritance taxes exists in offshore companies.
Delyagin remains certain that legal measures will become effective mechanisms against corruption only if the attack comes from the opposite direction. "The incomes of a huge number of officials provoke an enormous suspicion of corruption," he said.
Maria Tsyguleva supports his view. "It's extremely unlikely that these measures will have any real effect in tackling corruption in Russia. You have to treat the disease, instead of alleviating its symptoms. This is a pretense of dealing with the issue, as it's intended only to prompt public outcry and not to put the squeeze on the bribe-takers," Tsyguleva said.
The parliamentary bill is now being prepared for consideration by a special committee on constitutional legislation and state administration. In late September, Valery Trapeznikov, one of the bill's authors and United Russia Duma deputy, announced that bureaucrats may be allowed to keep property they acquired or inherited before the fall of the Soviet Union (i.e., before 1991). It is also possible that the ban will not affect property which an individual acquired before entering government service, if the property was purchased during an individual's long-term residence abroad. Ice-hockey player Vyacheslav Fetisov and boxer Nikolai Valuev, for example, both lived and worked outside of Russia, and purchased apartments abroad, as well.
All rights reserved by Rossiyskaya Gazeta.