Russian outsider art comes to London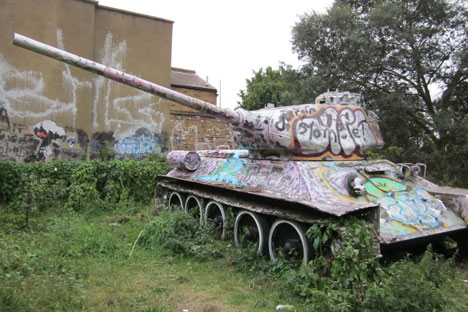 Just around the corner from the gallery, a genuine Russian T34 tank sits on a patch of overgrown wasteland. Source: Press Photo.
Tomorrow is the last day for artlovers in London to visit "Freedom Inside Yourself" by Oleg Kudryashov, the acclaimed Russian artist known as a "lonely artistic genius."

When Oleg Kudryashov left the Soviet Union in 1974, he destroyed 6,000 pieces of his own work. Unable to accept the narrow boundaries of art in Leonid Brezhnev's stagnating Russia, Kudryashov moved to London.
When he settled in Brixton in South London, the artist had to "start over again from the beginning," creating his characteristic dry-point impressions of urban scenes. In fact, Kudryashov took thirty sheets of paper with him when he emigrated: "The very first evening, at the first place where we stopped to spend the night, I began to draw."

Having returned to Russia in 1998, Kudryashov now lives in Moscow, where his work has been celebrated in solo shows at the Tretyakov Gallery and the Pushkin Museum of Fine Arts. The architect Alexander Brodsky has called him "the greatest living Russian artist and the best artist in Russia today."


An orphan in Soviet art


A major London showcase coinciding with the artist's 80th birthday exhibits some of Kudyashov's early black-and-white linocuts, as well as more recent, flamboyant compositions that use gouache, watercolor and dry-point engraving to produce raw, scratchy, evocative abstracts. Some of the most intriguing works are set up like icons, with small scenes of street life arranged around a sketchy Madonna. Other pieces show the influence of traditional, Russian lubok wood-printing techniques. A popular display from the 1980s, which hangs in the gallery's entrance room, involves sketches cut up into geometric shapes and reassembled as 3-D creations protruding from the walls.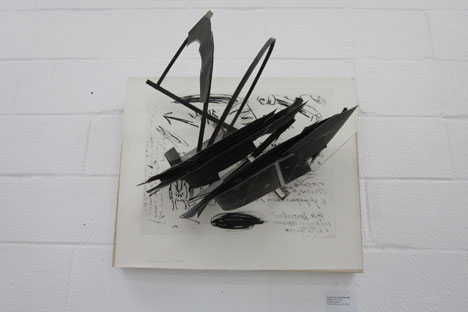 The Construction of Oleg Kudryashov. Source: Press Photo.
The radiating black circles of "Construction with Dostoevsky Quotes" are reminiscent of Alexander Rodchenko's plywood sculptures, Vladimir Tatlin's tower or other iconic, constructivist experiments – but Kudyashov was not directly influenced by these figures. Soviet artistic education ignored the avant garde and focused on politically-correct, representational techniques. "I was like an orphan in Soviet art," Kudryashov said later. He was also unimpressed by the British obsession with conceptual art in the 1970s, preferring to follow his own individual experiments with texture and color.


Avoiding collectives
In an interview with RBTH, exhibition curator Edward Lucie-Smith said of Kudryashov : "He has always been a nay-sayer; if a club forms, his instinct is to get out of it." Lucie-Smith explained that this instinct made Kudryashov a permanent outsider. "Not being a joiner, he never joined English society." This "contradictory temperament" has perhaps both delayed the artist's fame and led – in the end – to recognition of his originality.


Co-curator Sergei Reviakin agrees. In an introductory essay for the exhibition's catalogue, he describes Kudryashov as "a lonely genius," indifferent to "the bustle and vanity of everyday life around him." In an interview, reproduced in the catalogue, the artist says of himself that he is "very individualistic" and "avoided collectives." He may never have been fully at home in the neglected housing projects and the '70s conceptualism of London, but he drew inspiration from London's landscapes in several of his works.


Be completely free
The Bermondsey Project is an appropriately unusual venue for this retrospective show. The fabulous, white-washed gallery space is run by the homeless charity CRISIS, as part of their cultural hub inside a sprawling, deserted pickle factory. Director Mick Bateman proudly showed off the brand-new studios and workshops on the upper floors, explaining that recently graduated art students can find cheap space here, in return for helping homeless people seeking careers in the arts. Bermondsey, which includes the trendy "White Cube" contemporary art gallery, is one of those cutting-edge areas of London that sprouts art galleries like a rock star's stubble. The area is full of surprises. Just around the corner from the gallery, a genuine Russian T34 tank sits on a patch of overgrown wasteland.


The gallery's program is resolutely eclectic. Compared with an upcoming, zeitgeist-y show featuring plastic toilet seats, Kudryashov's work is "part of the artistic elite," said Lucie-Smith. Major collections such as Oxford's Ashmolean Museum and the Tate gallery also have examples of his art. In the United States, dozens of public collections own works by Kudryashov, including Washington's National Gallery and the Boston Museum of Fine Arts.


The title of the exhibition, "Freedom inside Yourself," comes from a conversation that Hans-Ulrich Obrist and Kudryashov had in Moscow earlier this year. Obrist is a well-known critic, curator and co-director at London's innovative Serpentine Gallery. He also happens to have a long-standing interest in interviewing artists. He visited Kudryashov's flat in January and asked him what his advice for young artists would be. Kudryashov replied: "Be completely free and try to find yourself. Be free inside yourself, because nobody gives you freedom."
All rights reserved by Rossiyskaya Gazeta.