Russia-Saudi Arabia relations and the Arab Spring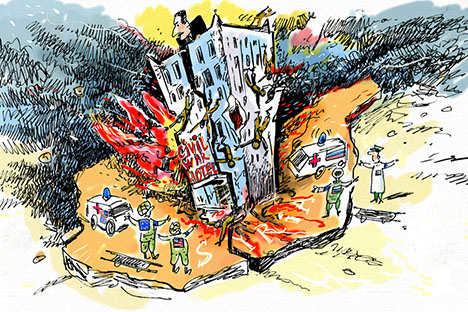 Challenges brought by the current Arab revolutions have inevitably led to further deterioration in the bilateral relationship between Russia and Saudi Arabia.
The deterioration in bilateral relations between Russia and Saudi Arabia started with the Libyan crisis, when Riyadh unconditionally backed the rebels in their fight against the Gaddafi regime. The domino effect continues through Syria due to the completely different approaches of these two states to the solution of the crisis.
Actually, Libya became the first serious problem in Russia – Saudi Arabia relations after a slightly positive dynamic in 2007 – 2010. It seemed Vladimir Putin's visit in 2007 put new life into the Moscow-Riyadh relationship and opened up more prospects for mutually beneficial cooperation. Indeed, the Saudis expressed interest in oil and gas industry cooperation and buying modern weapons. Also future agreements in telecommunications, metallurgy, building and railway construction were considered. There was also information about probable cooperation in nuclear power.
Then the Arab Revolutions broke out. First serious tensions began during the anti-Gaddafi protests. Ironically, Russia didn't use the veto right in the UN and thus backed sanctions on Tripoli for its repressions against the opposition and supported no fly zones over Libya and an embargo on arms sales. Moscow appealed for civil dialogue and hoped that sanctions would force Gaddafi to start it, along with the opposition. Instead, Western powers joined by Saudi Arabia used this situation in their own interests and unilaterally proclaimed Benghazi leaders as the only representative of the Libyan people.
"The Libyan deceit" was one of the main reasons why Russia decided to avoid the mentioned scenario in Syria. Also it should be noted that Russian economic and military interest in this country are incomparable with Libya. Moscow has serious investments there, a logistic base in Tartus and obligations to protect Russian citizens and their relatives (according to some estimates the total number of them is about 100,000).
From Libya to Syria, Russia – Saudi Arabia relations were getting worse. For Russia, Saudi Arabia became a theocratic regime that tries to undermine the regional stability in the Middle East in favour of Western powers, mostly the United States. The widespread opinion in Moscow is that Saudi Arabia simply is a tool in hands of Washington, which in turn is trying to overthrow the Bashar Assad government and encircle Iran geopolitically. And it is just one step away from a military campaign against Tehran that would destabilise the region completely.
Of course, this scenario is not in compliance with Russian interest, i.e. it could lead to the destabilisation of South Caucasus and Central Asia later. So it is not surprising that Russia firmly opposed the "regime change" operation in Syria and complained it didn't do it in Libya. Recently, the Russian position on Syria was explained by President Putin, who will shape the country's foreign policy for the next six years. In his interview to Russia Today he said: "…we generally enjoy friendly relations with the Arab world, but we would like to stay away from the Islamic sectarian conflict, and avoid a showdown involving the Sunnis, the Shia, Alawis and so on. We treat everyone with equal respect. We also get along well with Saudi Arabia and other countries; I have cultivated a warm personal relationship with the custodian of two Islamic shrines."
As it is seen from Moscow, Saudi behaviour doesn't look very logical. In his interview Vladimir Putin stressed that Saudi support of the Syrian opposition fighters will have grave consequences: "That was the case during the war in Afghanistan, when the Soviet Union invaded in 1979. At that time, our present partners supported a rebel movement there and basically gave rise to al-Qaeda, which later backfired on the United States itself." So, there are no guarantees that some time in the future the Syrian rebels whose activities are getting more terroristic will not strike on Riyadh itself.
However, there is the impression that the Saudi Arabian Government doesn't realise this threat and considers the Russian policy as purely pro-Syrian and thus anti-Saudi. Perhaps due to this misperception of Moscow's real intentions Riyadh placed information and economic pressure on Russia, which was accused of supporting the Syrian tyranny. The fact that the Russian government has stressed many times that it doesn't back Bashar Assad personally, but calls for an inter-Syrian dialogue, political reforms and a civilised transfer of power was brushed aside. Saudi Arabia along with Western powers ultimately demanded Assad's immediate resignation that in the conditions of the de facto civil war would inevitably lead to an even more large-scale bloodbath. This is the reason why Moscow made the decision to veto any attempts to impose sanctions on Syria, and rejected the idea of no fly zones.
Such policy resulted in a response from the Saudi Arabian side. For instance, Jeddah and Riyadh's chambers of commerce refused to meet with a Russian business delegation in June. Also a number of Saudi businessmen cancelled contracts with Russian partners. Reportedly, according to information from business sources, Saudi Arabia is going to increase its oil export to cut down prices that would negatively affect the Russian economy. Moscow has responded by criticising Riyadh for its oppression of the Shiite minority and trying to draw attention to the situation with human rights in this country.
Nevertheless, there is still a chance that Russia and Saudi Arabia could close this chapter in their relations and start to cooperate effectively. And Syria would no longer become a bone of contention, but the point where Moscow and Riyadh play a positive role. Russia has strong influence on the government in Damascus and Saudi Arabia could put pressure upon the Syrian opposition to end the fighting.
Unfortunately, the aforementioned is a rather theoretical scenario that has very little chance of being actualized. Consequently, the discord in Russia – Saudi Arabia relations will be one of the key factors that influence the current situation in the Middle East. At least in the medium term.
Alexei Pilko is Associate Professor at the Moscow State University, Faculty of World Politics.
All rights reserved by Rossiyskaya Gazeta.