Moscow cashes in on tourism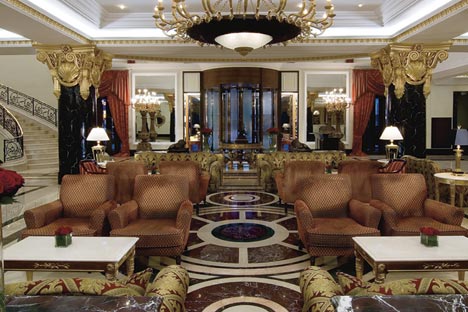 Opulent option: the five-star Ritz Carlton Hotel in Moscow. Source: Press Photo
Despite the traffic and the weather, more tourists are choosing to visit Moscow and finding it an affordable place in which to stay and sightsee.
While Moscow has consistently topped the list of cities with the most expensive hotel rooms, it doesn't mean a trip for most people to the capital has to be prohibitively expensive. According to the statistics service Mosgorstat, the average price of an economy-class double room in a Moscow hotel is 4,100 roubles (around $ 132). Sergei Shpilko, head of Moscow's Committee for Tourism and the Hotel Industry, said this figure gave a true picture of Moscow hotel prices.
Economy-class hotels in Moscow, which are normally given three stars and located outside city centres, make up 46 percent of the hotel market in Moscow. Surveys show most overseas tourists find the service in these hotels perfectly adequate.
International hotel chains in Moscow, which usually have four or five stars, cost from 11,500 roubles (about $ 370) a night. But a check on equivalent hotels in London or Paris showed rooms would cost from $ 417– 450.
According to statistics collected by the FSB Border Control, the number of foreigners arriving in Moscow in the first half of 2012 increased by 18.5 percent over 2011, totalling 2.47 million visitors. But almost half are migrant labourers from former Soviet states and further abroad. The number of tourists was 1.2 million. More Germans visited Russia than any other nationality, with a total of 152,000 visitors in the first half of this year, with Chinese second on 107,000 visitors, and France third with 73,000.
Aleksandr Kurnosov, deputy director of one of Russia's largest travel companies, says foreign tourists pay an average of $ 915 for a week's stay, not including air travel. Half goes on accommodation and the rest on dining, entertainment and excursions. The cost of sightseeing in Moscow is reasonable; a ticket to the Pushkin Fine Arts Museum is 300 roubles (about $ 10) but a comparable ticket to the Louvre in Paris is 1,500 roubles (about $ 48).
What bothers foreign tourists most about Moscow is traffic jams, the weather and patchy service, according to Kurnosov.
"We carry out feedback surveys of our clients regularly," he says. "Five or six years ago, the main grumbles were about the quality of hotels, the lack of information in English, littered streets and grubby public toilets." Now that people were more annoyed by things that make travel awkward, like the distance of car parks, bus stops and stations from the attractions they serve.
As far as traffic jams are concerned, the best plan was to avoid busy periods. "Visit Moscow in early January," say Sergei Shpilko. "You'll get the lowest prices on hotels and practically no traffic blocking the streets."
All rights reserved by Rossiyskaya Gazeta.