Putin wishes Manmohan Singh on his 80th birthday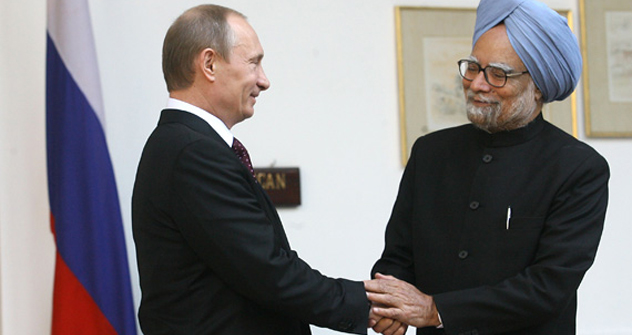 Russian President Vladimir Putin conveyed his wishes to Manmohan Singh on the occasion of the Indian Prime Minister's 80th birthday. Source: Press Photo
Russian President calls Indian Prime Minister an outstanding statesman and eminent economist.
Russian President Vladimir Putin conveyed his wishes to Manmohan Singh on the occasion of the Indian Prime Minister's 80th birthday, which falls on September 26.
"In India and abroad you have earned well-deserved respect as an outstanding statesman and eminent economist," the Russian President said in a letter that was delivered to Singh, along with a gift. "It is largely thanks to your efforts as the architect of Indian reforms that the country's economy is dynamically developing and its technological and industrial potential is on the rise," Putin said. "India strengthens its position in the world arena, plays an important role in the UN, BRICS, G20, other global and regional structures."
Manmohan Singh has recently been at the receiving end of severe criticism from members of India's opposition who have denounced his latest reforms that call for higher foreign direct investment in retail and civil aviation. The Indian Prime Minister was earlier attacked by several sections of the international media for not implementing the much-needed reforms. The media echoed calls for reforms from foreign governments. Russia was one of the few major global economic powers that maintained silence on the lack of implementation of reforms in India.
In his letter, Putin also praised Singh's contribution in the development of bilateral relations between Russia and India. "I would like to make a special note of your personal contribution to broadening mutually beneficial Russian-Indian relations which have reached the level of privileged strategic partnership," Putin said. "I warmly recall our meetings which have always taken place in a friendly and constructive atmosphere."
The Russian President who is due to visit India at the end of October said he was convinced that the forthcoming talks in New Delhi would "be conducive to further deepening of the entire gamut of bilateral ties for the benefit of both countries, in the interests of ensuring stability and security in Asia."
The talks between Putin and Singh will focus on trade, defence and global security, including the situation in Syria and the Middle East. The Kudankulam Power Project, MTS' legal proceedings in India and the delay in the delivery of the INS Vikramaditya are likely to prominently feature in the talks.
All rights reserved by Rossiyskaya Gazeta.