Attempt to bypass UN is road to chaos: Putin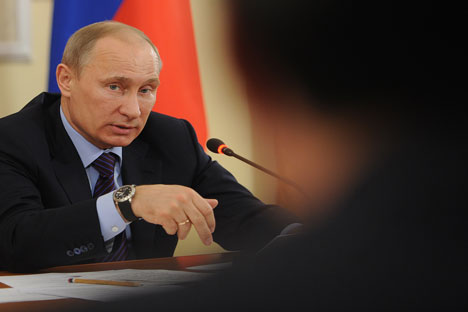 Putin urged tough resistance to religious extremism in Syria, Libya and other countries, but also called for respecting people's religious sentiments. Source: ITAR-TASS
Russian President says it is unacceptable to provoke violence in "hot spots" in an effort to achieve regime change.
Russian President Vladimir Putin criticised as unacceptable on Wednesday attempts to use force in circumvention of the UN Charter.
"Without the support of international law it is impossible to carry out affairs in the modern world. Attempts to replace the universal principles of the UN Charter by unilateral actions or bloc agreements or even more so, use of force in circumvention of the UN without approval, will lead to no good," Putin said at an presentation ceremony for foreign ambassadors' credentials.
"Such actions are fraught with destabilization and chaos," he added.
"Life lately has shown us indications of this," he said. "It's time to learn a lesson from this," he added. It is unacceptable to provoke violence in "hot spots" in an effort to achieve regime change, especially in the Middle East and North Africa, Putin warned.
"The principle of the supremacy of law should be ensured on the international as well as the national level," he said, adding that this "directly applies to processes in the hot spots in the world, above all the Middle East and North Africa."
"Incitement to violence with the aim of regime change only leads the situation into an impasse," he said. "Violence breeds violence."
Putin urged tough resistance to religious extremism in Syria, Libya and other countries, but also called for respecting people's religious sentiments.
"We consider it necessary to increase joint efforts to counter terrorist threats and extremism wherever it may be - in Libya, Iraq, Yemen, Syria, Egypt, Afghanistan," he said during a meeting with foreign ambassadors. "Double standards do not belong here."
He added: "Terrorists need to be given a hard and unanimous rebuff, but only while respecting the cultural values and religious feelings of the people." Putin also seemed to hoist Russia as an example of multiethnic and multi-religious harmony, saying that Russian history "shows no alternative than to preserve civil peace and harmony in society."
External Players encouraging Terrorism
External players, who spur on the Syrian opposition to give up the dialogue, encourage terrorism, Russian Foreign Minister Sergei Lavrov said.
Speaking at the U.N. Security Council session, Lavrov said, "We condemn any violent actions, any violations of human rights and international humanitarian law where they came from."
"The states, which spur on opponents of Syrian President Bashar al-Assad to give up ceasefire and the dialogue and demand the regime capitulate, bear responsibility on continuing bloodshed," the Russian minister said.
"Such approach is unrealistic and encourage terrorism, which is used by the opposition at its most," Lavrov stressed.
The article is based on reporting from RIA Novosti and ITAR-TASS.
All rights reserved by Rossiyskaya Gazeta.