India to raise 8th Sukhoi SU-30 squadron by December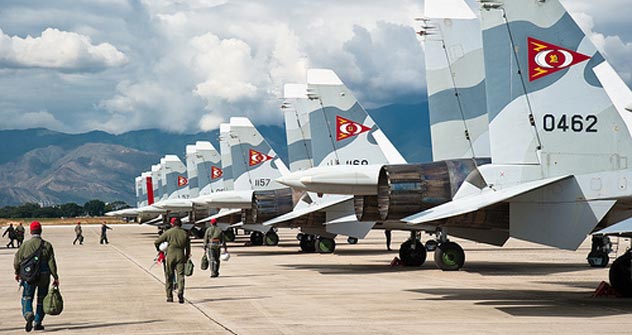 India plans to raise its eighth squadron of the Sukhoi SU-30 MKI frontline combat planes in December this year. Source: Press Photo
Russian-designed Sukhoi aircraft are stationed close to India's borders with Pakistan and China.
India plans to raise its eighth squadron of the Sukhoi SU-30 MKI frontline combat planes in December this year, IANS said on Wednesday. The squadron will be based in Sirsa in the state of Haryana, close to the Pakistan border, the agency said.
This will be the third Su-30 squadron of the Indian Air Force (IAF) to be deployed close to the Pakistan border in 14 months, after Jodhpur in Rajasthan in October 2011 and Halwara in Punjab on Tuesday, according to IANS.
"The third Sukhoi squadron close to our western frontiers will be based in Sirsa. It will be raised in December," the agency cited a senior officer of the Indian Air Force (IAF) as saying. The Sirsa squadron will also be the second unit to fly the air dominance fighters under the Delhi-based Western Air Command (WAC) that controls 16 air bases and is responsible for defending the air space over north India, according to the agency.
The IAF had resurrected the disbanded 220 Squadron at Halwara on Tuesday, the agency said.
In August 2010, the IAF had for the first time deployed a SU-30 squadron in the northeaster part of the country at Tezpur in Assam, to act as a counter to China. In March 2011, it raised another Sukhoi squadron at the Jabua airbase, also in Assam, according to IANS.
The original two SU-30 squadrons are based near Pune, which is around 250 kilometres away from Mumbai, India's financial capital.
The IAF is far from its target to operate 17 Sukhoi squadrons by 2018, when it would have inducted 272 aircraft, making it the main combat plane for the next decade or so, IANS said.
India had first signed up for Su-30s in 1997, when it bought 50 of the planes off-the-shelf from Russia. Later, it also obtained a licence for Hindustan Aeronautics Limited (HAL) to manufacture the planes, the agency said.
The IAF is looking to obtain around 222 Su-30s from HAL, including 42 planes that India signed a deal for with Russia in December 2011 when Prime Minister Manmohan Singh was in Moscow for a bilateral summit with then-Russian President Dmitry Medvedev, IANS said.
All rights reserved by Rossiyskaya Gazeta.