Russia's Foreign Ministry seeks security for its diplomats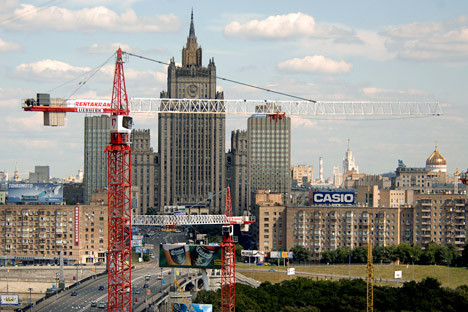 Russia's Foreign Ministry is going to increase security of its diplomats abroad after a recent attacks on the U.S. Embassy in the Middle East. Source: PhotoXPress
The Russian Foreign Ministry has decided to step up security at Russian missions abroad, owing to the worsening political situations in a number of regions, threats from natural and man-made disasters, terrorist activities and the rise of drug trafficking and international crime.
In order to strengthen the resources and human capital of its department, Russia's Foreign Ministry has developed a draft concept entitled "Ministry of Economic Development and Rossotrudnichestvo through 2020."
In terms of specific measures, the Foreign Ministry document proposed buying land in countries facing poor socio-political conditions, in order to construct new diplomatic missions and consulates equipped with state-of-the-art security features. In addition, local security firms may be hired to guard Russian foreign missions and employee residences.
The Foreign Ministry has further proposed the purchase of armored vehicles and the hire of personal protection for employees stationed in specified countries. Secure cellular networks were also made of interest to the department, for the coordination of activity in emergency situations such as natural or man-made disasters. The networks would involve the use of so-called "scrambled communication channels," complete with encoding and decoding devices.
"As a matter of fact, the concept builds upon existing positive experiences accumulated by Russian and international foreign missions operating in hot spots," a source at the Russian Embassy in Tripoli said. The source noted that UN staff and employees of major Western embassies in Libya only travel in armored vehicles.
Vyacheslav Nekrasov, secretary of the Federation Council's group on cooperation with Afghanistan's National Assembly, is very familiar with the peculiarities of diplomatic work in Kabul. He commented on some of the document's provisions.
"Only those means of personal protection that are allowed under local law can be used. Diplomats are unlikely to be driving around town toting automatic guns. A can of mace is the best they can be hoped for," Nekrasov said. However, the expert believes that providing staff with modern flak jackets is of paramount importance – American and British diplomats have been wearing the thin material under their shirts for years.
Another important provision of Foreign Ministry's draft concerned commercial-based cooperation with private security firms in those specified localities. According to Nekrasov, this practice is already being implemented.
"For example, our specialists who are reconstructing the Naglu hydro power plant in Afghanistan have several security perimeters. First, the Afghan army on the outside, then private security reporting to Ismail Khan, the Minister of Water Resources and Power, and then our own security on the inside," the Federal Council group secretary said.
There are seven or eight large, private, security firms operating in Kabul. It has not been ruled out that Russian private military security firms could assume the security of Russian embassies. According to a recent statement by Vice Prime Minister Dmitry Rogozin, the matter will be discussed at the next meeting of the Military-Industrial Commission.
Nekrasov believes it is necessary to establish buffer zones around Russian missions abroad. American missions, for example, do not allow unauthorized people within 1,600 feet of their premises. Such buffer zones could be established both on commercial or reciprocal bases – Russia would get them in Kabul and Afghanistan would receive them in Moscow.
In the future, the Russian Foreign Ministry also plans to "create an integrated system for monitoring the security of Russian citizens abroad and broadcasting emergency alerts."
First published in Russian in the Izvestia newspaper.
All rights reserved by Rossiyskaya Gazeta.