Russian Orthodox icons in New York City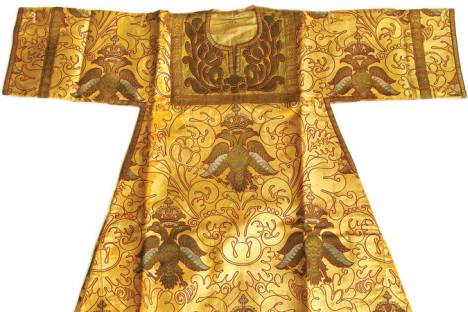 Synod's historic Baker mansion
75 East 93rd Street
New York, NY 10128
The exhibition will feature close to one hundred masterpieces of the Russian religious art spanning eight centuries, including such artifacts as a 13th century processional icon depicting Christ the Almighty Savior, an Orthodox server's vestment (on the photo) used at the coronation of the last Russian Emperor Nicholas II, and an impressive selection of the 19th century presentation icons in silver and enamel covers crafted by the leading Russian Imperial silversmiths.
"We are excited about the opportunity to welcome this historic exhibition, which not only supports our mission to further the cultural relations between Russia and the United States but also provides us with an occasion to connect with a diverse Russian community of the greater New York City area," said Russian Consul General, Hon. Igor L. Golubovskiy.
All rights reserved by Rossiyskaya Gazeta.