Social protest prompts real manufacturing solutions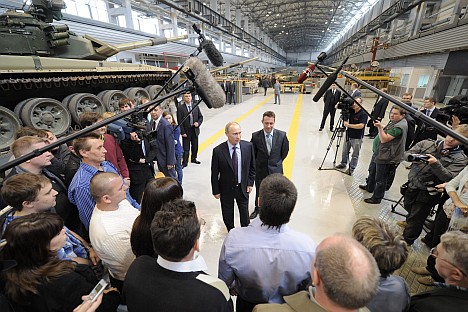 Russia's President Vladimir Putin paying a visit to the Uralvagonzavod factory during his trip to the Sverdlovsk Region. Source: ITAR-TASS
The Russian government is once again bailing out struggling companies, offering them special terms through large state-owned firms and banks.
The way in which two recent social conflicts in the Sverdlovsk Region were resolved has shed some light on how officials interpret our country's industrial policy principles.
The first conflict occurred at the AMUR (Ural Automobiles and Motors) factory in Novouralsk, where intervention by the regional government managed to halt the second hunger strike in one month. The privately-owned company is 4.5 billion rubles (about $145 million) in debt, including the 28 million rubles (about $906 000) owed in back wages that the company stopped paying last October.
The regional government has cut a deal with the Nizhny Tagil giant Uralvagonzavod, enabling the company to share some of its manufacturing orders with AMUR. The locals are not holding their breath, however, that the sudden notice from authorities is a result of their desperate letters to Moscow. Instead, residents attribute the attention to the city's mayoral elections, which will be held on Oct. 14.
Uralvagonzavod boasts a long track record of relations with the head of state. In 2005, Deputy CEO Aleksei Zharich created the "For Putin!" web project, which was revamped as the "Putin 2012" website in 2009. In December 2011, the plant's workers held a pro-government rally in Nizhny Tagil, prior to establishing Russia's first "Putin support committee."
Former factory chief Igor Kholmanskikh became a real celebrity after he proposed to "pay a visit to Moscow with the guys" and dress down the opposition. He later became the first plenipotentiary representative in Russian history to be appointed from the general public. CEO Oleg Sienko is also considered to be a sidekick of Russian Technologies chief Sergei Chemezov, who happens to be a longtime acquaintance of President Putin.
Uralvagonzavod will now have to justify the government's trust and think hard about how to help AMUR. "We are ready to place our manufacturing orders at AMUR, but we have to understand the factory's capabilities. We will monitor the situation and develop an action plan accordingly," said Semion Mlodik, CEO of the Chelyabinsk Tractor Plant that is part of the Uralvagonzavod research and production corporation.
A similar story happened in Krasnoturyinsk – another Sverdlovsk Region town. The Bogoslovsky Aluminum Plant (BAZ) was the scene of a hunger strike that not only involved workers but also three Krasnoturyinsk city council deputies. The situation came about as the result of a business dispute between Oleg Deripaska and the former owner of the plant, Viktor Vekselberg. The conflict left the aluminum factory on the verge of closing, until a rescue task force comprising Minister of Economic Development Andrei Belousov, Rusal CEO Oleg Deripaska, and Sverdlovsk Region Governor Yevgeny Kuivashev was flown in to put an end to the hunger strike.
It turned out that the government was ready to help with the problem too. The BAZ story ended with the signing of a new contract wherein Rosatom will now be charging Rusal preferential electricity rates.
"These examples show that it's possible to solve the problems of a specific company in 'manual mode'; but as soon as the government leaves the company to its own devices and turns to other matters, the company immediately fails," said Sergey Alexashenko, director of macroeconomic research at the Higher School of Economics. "There are two ways of doing things in an economy, and both can be considered totally legitimate. The first is 'manual' management. But for it to work, it must be perfected, complete with state committees on planning, supplying, and pricing. Or there should be a competition-based economy where only the strongest survive. Our government's problem is that they are trying to follow the middle road."
"We are doing nothing to predict crisis situations; we are only putting out fires," said Anton Danilov-Danilyan, head of the Delovaya Rossiya Federal Industry Council. "It's not a crime to use Reserve Fund money to help in an emergency, but public funds are not the most important thing – serious work by economic, sociological and demographic institutes is. They must review the situation in every specific region and make recommendations on business development. You can analyze how companies work and how they pay taxes. In addition, there are many firms that can find ways to help companies recover."
The need for systematic rather than haphazard solutions for "problem factories" reflects a change in Russia's political agenda. Gubernatorial elections may be there just for show, but social protest has become a real threat for governors and an important factor in regional politics.

The original Russian article is abridged and first published in Kommersant-Vlast magazine.
All rights reserved by Rossiyskaya Gazeta.