An Indian scholar envisions the development of Siberia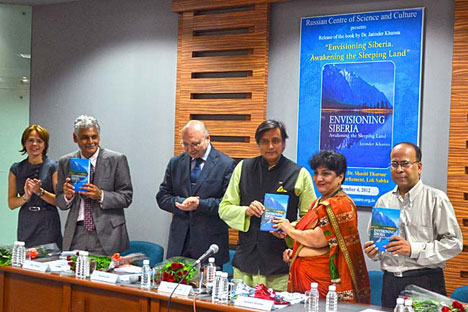 Dr. Jatinder Khanna's Book on Siberia Released at RCSC, New Delhi. Source: RCSC
A researcher from New Delhi, Dr. Jatinder Khanna has put together a first of its kind research with Siberia as a means for strategic and economic growth of Russia and thereby Asia.
"What happens in Siberia affects the entire world," asserts Dr. Jatinder Khanna, author of the recently published book 'Envisioning Siberia: Awakening the Sleeping Land.' She says it with a lot of faith and findings of more than two decades of continuing research on developmental trends in Siberia. "Rich in natural resources and strategically located; it has the potential to resolve the world's most complex problems," says Khanna, who in her book, establishes the significance of this region and also gives pointers to bringing it at the global forefront.
EXCERPT:
Siberian territory turns out to be the key to the development of economic communications with countries of Asia-Pacific region. Siberia provides the most direct and fastest way to connect the main economic and productive parts of the world --- Europe, United States, North-East Asia and Central Asia, to emerge as the new frontier of development. Serious discussions are going on in the international community regarding the possibilities of Siberian resources, which can be mobilized on a global scale. The potential of Siberia's pool of abundant resources, combined with comparatively inexpensive resources like skilled labor force, absence of any ecological restriction in the territory and the alluring possibility to gain access to transnational corporations.
A scholar of regional development and planning, Khanna has earned appreciation from a number of experts in this subject matter. "She did a commendable job in providing exposure to the unexplored facets of Siberia still unknown to many people across the world," said Shashi Tharoor, Member of Parliament, India, while releasing the book. "The book provides an authentic view and holistic insight on the social, geo-strategic, economic, regional and international dimensions of the development of this vast region of Russia," observed Maxim Kozlov, Political Counsellor, Embassy of the Russian Federation in India, and also shared some supporting statistics, "Siberia accounts for almost 90 percent of Russia's natural gas production, 70 percent of its oil and coal output, most of its reserves of non-ferrous and rare metals, and big amounts of explored chemicals. It has half of Russia's forests and more than half of its water and hydropower resources."
Khanna's book is a substantial contribution to the limited information available on this subject. An emphasis on the socio-demographic dynamics makes it even more unique. An asset for researchers and academics, her work stemmed out of her fascination for objects of superlative degree. "In the early eighties I heard about the construction of the Baikal-Amur Mainline, an important branch of the world's longest railway line connecting the world's largest freshwater lake," recalls Khanna. She wondered about the impact 'the construction project of the century' will have on Siberia and thus began her long association with the region.
At that time there was a heightened interest in Russia and India's relations. Her institute, the School of International Studies at the Jawaharlal Nehru University had been observing the economic rebuilding of Russia. "My life's personal journey has been linked with the academic one. Russia went through a tumultuous phase of restructuring, and parallels can be drawn with my own life," passionate about her work she recalls her struggle to balance family and work. Hailing from a conservative family which never favoured higher education for a girl, she had been pursuing studies through scholarships and many a times, in secrecy. After marriage and kids she had now reached the crossroads of career versus family responsibilities. She had to put her thesis on the backburner but she never gave it up completely. "Siberia was suddenly dismissed as a cold storage, after the disintegration of USSR, my research went through a similar phase" says Dr. Khanna. At first family obligations and later difficulties in acquiring permission to visit Siberia kept her from continuing her research until the year 2000. "The strategic focus on Siberia was revived and I too renewed my work. Now, my kids were grown up and I had better insights on the strategic importance on the growing region."
She first visited Siberia in 2008. "I visited libraries and universities there multiple times. I met some fantastic people who helped me understand the nuances of the regional and international equations. What struck me was the lack of proper understanding of the region in India and vice versa. Several bridges needed to be built. There is scanty reading material in English about Siberia and that gave me the idea for a relevant book in English."
Through 'several snowy calendar days' in Siberia, she understood its people's lives and challenges. "Siberians have quite a reputation for being aggressive and I also had my share of rough moments. But I could understand their circumstances," she explains. Khanna survived the harsh weather, petty thefts, even travelled alone with an ominous drunkard in a Trans-Siberian coach, yet returned with a favourable impression.
Khanna's perseverance and patience culminated on 'Socio-Demographic Factors in Siberian Development,' several articles, lectures, seminars and now a comprehensive book. Her meticulous analysis, interpretation and systematic presentation of her findings affirm that Siberia is the new potential economic focus for Russia; this 'sleeping land' can develop into a major resource and energy producer, scientific and technological hub and a significant modern centre for not only Russia but also the World.
Envisioning Siberia: Awakening the Sleeping Land' by Dr. Jatinder Khanna:
Conditions in geo-political and economic-geographic position of Siberia have redefined its identity. The region, often termed as the "Asian part of Russia" is economically under-developed than the western part of the nation or the "European Russia".
Siberia is projected as the newly emerging economic and strategic hub of economic development in the Russia of the 21st century. Still, Siberian development continues to present Russian economic planner with a paradox about how to focus regional development policies. In order to develop the region, Siberia requires higher capital and labor inputs as compared to the more developed regions of Russia. Because of this paradox, the priority attached to Siberian development has been shifting fortunes of Siberia.

Factors like ineffective resource utilization, shifting policy focus, lack of definition of developmental roles between the Federal government and its regional governments have all contributed to inadequate infrastructure and a 'demographic catastrophe'. Thus, the region has eluded planners with the difficult challenge of utilizing its vast resources, including its fast depleting human resources. Developments in Siberia haven't always turned out to be the way planners thought out to be, and the implications have always befallen on its people.

Only from the end of 19th century its economic development started. In the 20th century, Siberia attained the most intensive development, transforming from an outlying district to an industrial and agrarian region playing a significant role in economic and the geo-political status of Russia However, Siberia's destiny has been and will be tied to Russia's. The 'peopling' of Siberia has been a contentious issue. The remoteness and ruthless climatic conditions have posed a challenge in the region's development.
All rights reserved by Rossiyskaya Gazeta.