Facebook stirs fear of IT brain-drain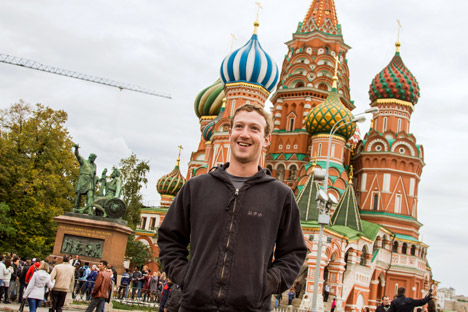 Facebook founder Mark Zuckerberg is interested in one of the Skolkovo startups, according to Russia's media. Source: RIA Novosti
Russian IT managers claim that Facebook has been poaching staff from Russia, yet some experts remain unconvinced that this is a negative thing for the country's IT industry
Facebook has been hiring programmers away from big Russian Internet companies, President and co-owner of the biggest Russian IT holding IBS Group Anatoly Karachinsky told Vedomosti. On his Facebook page, revealed that Mark Zuckerberg typically conducts personal job interviews with those who have unique and rare competencies. "Those who were interviewed have been telling me they were offered jobs and immediate 'evacuation' to the United States," Karachinsky said, drawing a comparison to Microsoft's mass campaign to poach Russian programmers during Russia's 1988 financial crisis.
Karachinsky is especially concerned that Zuckerberg does not hide his intention to export Russian talent – Zuckerberg's meeting with Medvedev will make this process even more significant and legitimate. Karachinsky advises the Prime Minister's aides to think again about whether the signals that are being given to the market are appropriate.
The problem is not that Facebook is hiring in Russia, so much as the way the Russian authorities interpret this process. "If it is interested in supporting Russian companies, then it would encourage Western companies to outsource services from Russia, the way India and China are doing," said Karachinsky. "If following this meeting [with Medvedev], Zuckerberg starts placing orders with Russian companies, I will be the first to welcome him."
Facebook has been enticing program developers from Russia, Pavel Durov, founder and General Director of the biggest Russian social network VKontakte, told Vedomosti. "I know for sure that one of the VK Cup [VKontakte developers' competition] finalists is already working for Facebook," said Durov. When asked whether VKontakte employees are generally leaving for Facebook, Durov said: "We aren't fools. It's a sinking ship."
Facebook is also interested in Mail.ru Group programmers, a spokesman for the Russian company says. Meanwhile, Yandex has not noticed Facebook tempting away its staff, although Google, Facebook and Microsoft have been on the lookout for Yandex developers. A manager close to the search engine claims that not a single Yandex programmer has left for Facebook in the last 12 months. Recsoft, a customized-software developer, has not seen any attempts by Facebook to recruit its specialists, says Svetlana Vronskaya, a spokesperson for the company. Facebook did, however, invite Recsoft programmers to compete in the Facebook Hackathon and was ready to accept them without preconditions. Vronskaya believes this is Facebook's general approach to employees of leading Russian software developers.
Facebook has not commented.
Facebook, as one of the world's biggest internet corporations, includes Russian investors and enjoys many users in Russia. Hence, there is plenty of interest in the Prime Minister's meeting with Zuckerberg, says Medvedev's spokesperson Natalia Timakova. "Medvedev and Zuckerberg have discussed Facebook's possible presence in Russia not only as a social network but also as a company that deals with the most advanced products. They have also discussed Skolkovo as a place where startups could be of mutual interest," Timakova said about the meeting.
It is a good thing when Russian students and specialists are invited to work abroad, says Professor Yuri Ammosov of the Moscow Institute of Physics and Technology (MIPT). "I have several students being trained at Facebook right now," he said. First, working for companies of a scale like Facebook lends programmers a unique chance for self-realization: they work in a place where technology is born; they are involved in global projects. Second, even if they stay abroad, they do not lose their ties with Russia. For instance, MIPT graduates assist heads of schools at the university to develop academic programs, etc. Ammosov does not think all Russian specialists would even like to move abroad, especially since the salary gap has narrowed significantly between Russia and the United States: programmers make $30,000-$40,000 a year in Russia and $70,000-$80,000 in the United States.
"Back in the 1990s, programmers were leaving Russia mostly because of salaries, and because there was nothing to do in Russia. Whereas, now, Moscow programmers make almost the same as those in Canada, and people leave because they believe that working for a Western company is more prestigious," Mail.ru General Director Dmitry Grishin said in an interview with Vedomosti.
Western companies have every reason to be interested in Russian programmers: they are as technically proficient as Indian developers, for example. Russian programmers even surpass others when it comes to creativity and the ability to address unconventional tasks, says Russoft Association President Valentin Makarov. He does not think that the recruitment of Russian specialists by foreign firms is a threat to Russia, because there is a balance between those who go and those who return to open their own businesses in the country.
According to Medvedev's spokesperson, the prime minister's meeting with Zuckerberg also covered the social networks' impact in spheres beyond business and IT, including politics. "Dmitry Medvedev joked whether he got it right that Barack Obama will apparently win, since he has far more followers [on Facebook] than Mitt Romney," Timakova said. Accoring to Timakova, Zuckerberg confessed that, when he and his friends were developing Facebook, they could not have imagined that it would become a factor in world politics.
First published in Russian in Vedomosti.ru.
All rights reserved by Rossiyskaya Gazeta.