Overcrowding and high prices are damaging Moscow's popularity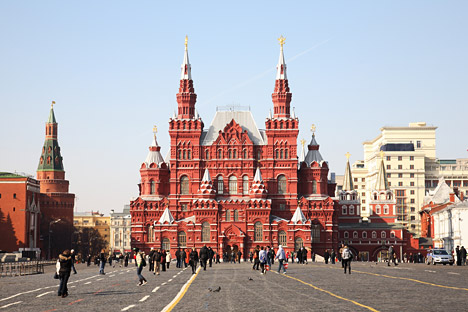 In the last six years, Moscow has begun to lose its appeal for many residents in Russia's regions. Source: Lori / Legion media.
Russians still consider Moscow to be the most attractive city for education and business; yet, the capital is beginning to lose its appeal in other areas such as health and safety. Among other things, residents of Russia's regions also consider Moscow an unsuitable place in to raise their children. These are just some of the findings from a recent poll conducted by sociologists for the Russian Public Opinion Research Center (VTsIOM).
According to a recent VTsIOM poll, nearly half of all Russians accept that Moscow offers better opportunities for obtaining a good education (49 percent) and a decent standard of living (47 percent), as well as for finding a good job (46 percent) or finding a way into the government (54 percent). At the same time, an overwhelming majority of Russian residents (82 percent) believe that the capital makes its living mainly at the expense of the regions. Moreover, two-thirds of all respondents were convinced that tension exists between Muscovites and residents of other cities and regions in Russia (68 percent). This latest poll also indicates that, for the most part, the capital is not a city in which Russians would like to live permanently or raise their children.

Zhanna Khlopina, a young psychotherapist building a practice in Krasnodar, is convinced that Moscow is an expensive city and far too overcrowded. According to the young specialist, it is an impossible place to start a business without a substantial amount of capital. "I do not consider Moscow ecological, and I'm convinced that the social and medical services there do not work the way they should, because of the overcrowding," said Khlopina.

Zhanna would consider living in Moscow only as a temporary measure, in order to earn money. "Moscow can give you a quality education, but I would not get married or bring up a child there. I might live there for certain length of time, but I would never move there for good," she said. In her appraisal of the capital, Zhanna is not alone. In the last six years, Moscow has begun to lose its appeal for many residents in Russia's regions.
In 2006, sixty percent of respondents believed that Moscow offers a decent standard of living; a similar dynamic was observed in the assessment of quality education and career opportunities. Since then, however, Moscow has become less attractive to non-Muscovites in search of a good education, a good job, or a start in business or politics.

Moreover, the capital is losing out to the regions in matters of ecology, health and personal safety. An overwhelming majority of respondents (68 percent) said that environmental conditions in Moscow are not suitable for living, while nearly half (49 percent) said that Moscow was not a safe place to live.
There are several reasons for this, according to Nikolai Petropavlovsky, director of a sociological center in Krasnodar. "Many people are not in a rush to move to Moscow because of the high standard of living. People there not only earn a lot – they spend a lot, primarily on renting a place to live, on transportation and food," he said. This recent VTsIOM poll found that 39 percent of respondents were certain that the Russian capital could not offer them an affordable place to live.
Yet another reason for the capital's declining popularity is the creation of attractive jobs in the regions. Related to this is a general feeling of disappointment among Russians regarding social mobility. "In the Soviet Union, people believed that a good education could get you a good job; people don't believe that anymore," said Petropavlovsky. 

People's willingness to move to the capital is indeed decreasing, but this has not affected migration from the regions, said Professor Alexander Vysokovsky, a dean at the Higher School of Urban Planning. "Residents of the provinces have never had a high opinion of the capital, especially since Moscow is associated with power – and therefore with corruption and inconvenient laws – but the stream of migrants from the regions to Moscow is still not drying up," Vysokovsky said.
Despite its downsides, the capital can still provide people with jobs in the modern sector of the economy, which includes jobs involving intellectual work. Higher salaries in Moscow also give residents the ability to afford the higher costs of living, as well as the means to take advantage of the big city life. As Vysokovsky says, in Moscow, residents can enjoy an interesting and modern lifestyle. This fact may continue to trump all of Moscow's imperfections and draw in a steady flow of residents from Russia's many regions.
All rights reserved by Rossiyskaya Gazeta.