RIC needs to reinvent Itself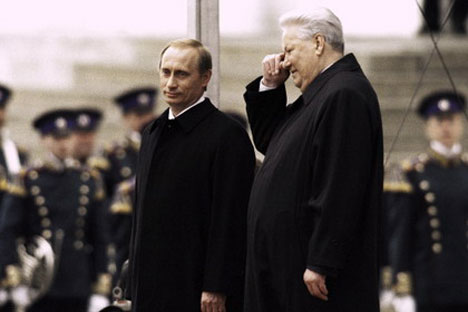 the Russian Federation's first President Boris Yeltsin and Vladimir Putin. Source: Press Photo
The main idea behind the Russia-India-China axis, as envisaged by the Russia's first President Boris Yeltsin in 1993 was to construct a multi-polar world after the Cold War.
Russia, India and China (RIC) have now been engaged trilaterally at the foreign ministers' level since 1996, but this triangular relationship has not been as free-wheeling as a 16-year-old engagement should have been. Intra rivalries, suspicions and doubts are responsible for this.
This is reflected from two things:
(I) The RIC annual engagement hasn't been consistent even at the foreign ministers' level as they have been able to hold just eleven such meetings in 16 years;
(II) Even after such a long tenure of this relationship, the RIC summit meeting hasn't even been tried.
Even the 12th round of foreign ministers' meeting is not planned this year because the eleventh round which took place on April 13, 2012 in Moscow was due in 2011 and held almost a year late, Indian diplomatic sources told RIR. The 12th round, to take place in India, won't be held before next year.
The main idea behind the Russia-India-China axis, as envisaged by the Russian Federation's first President Boris Yeltsin in 1993 and Russian Prime Minister Yevgeny Primakov in 1996, was to construct a multi-polar world after the Cold War. Each of the three countries in this triangle has engaged with the other two rather intensively over the past two decades. But then this has got nothing to do with the loose grouping of RIC as such, if RIC can be called a grouping in the first place.
The RIC needs to pack a punch and make itself a truly formidable body in the world affairs. Simply put, the RIC needs to reinvent itself. This is eminently possible but it requires a political push at the highest level in all three countries. Sadly, this verve is not visible – not yet.
Indian diplomats who have been steering the RIC ship for a while say that they find the 'format' rather useful as it serves as a convenient platform to discuss political issues. Even the WTO-related and climate change issues have political overtones and require political mandate from the respective governments. These issues have already started figuring at the RIC foreign ministers' meetings and are likely to get on to the front burner in future.
The RIC plate is already chock-a-bloc with issues as diverse as disaster relief, agriculture, public health, academia and business. A concrete development that has taken place during RIC foreign ministers' deliberations is that theme-based subsidiaries like RIC Trilateral Experts Meeting on Disaster Management, Trilateral Business Forum, and Trilateral Academic Scholars Dialogue have come up over the years.
The Difficult Part of RIC
Now coming back to the earlier point of the need for RIC to pack a punch and reinvent itself, this is very much doable. RIC is different from BRIC or BRICS, not just because RIC is minus Brazil or South Africa. It is because of geopolitics of the three countries where Brazil and South Africa have comparatively been fringe players as they have not been so thickly interwoven as Russia, India and China have been.
All three RIC countries are declared nuclear weapon states, unlike Brazil and South Africa. None of the RIC countries share border with Brazil and South Africa while China shares border with both Russia and India. This is the historical and geographical fact that makes RIC stand apart from other bodies like BRIC or BRICS or even IBSA (India, Brazil and South Africa) and other bodies involving RIC member countries.
While India and Russia have never fought a war – on the contrary, the two have had a 20-year-long military pact which envisaged attack on either would be construed as attack on the other – China and India have fought a full-fledged war in 1962 over border dispute which is still lingering. China and the erstwhile Soviet Union too witnessed a seven-month border conflict in 1969 which was finally resolved with future border demarcations.
Russia and India have been very close since the Cold War era. The two countries have got a new impetus in their bilateral relationship since the advent of Vladimir Putin era in Russia. Similarly, Russia-China ties have also become stronger and smoother over the years. The real problem in the RIC triangle is the India-China relationship – a difficult and tad awkward relationship where mutual suspicions and perceived threats from one another still remain deep-seated.
The Road Ahead
RIC can become a truly vibrant and effective body if India-China bilateral relations improve and the border dispute between them is resolved amicably to the mutual satisfaction of the two sides. India and China have been labouring hard since the 1980's to smoothen out the rough edges between them. The magical turnaround in their bilateral relationship came after their 1993 accord which invigorated their economic relations. Russia has been pro-active in coaxing both India and China to forge closer ties between them, but somehow it still remains work in progress.
To make this happen, the RIC countries have to build further on their convergences and diminish the red lines among them. But then this is easier said than done. One specific way forward is to start trade among themselves in local currencies rather than dollar. This idea is already being given a shot at the BRICS level. Here the BRICS has an edge over RIC because the idea of trading with each other in local currencies has come up at the summit level.
Before BRICS thrashes out broad contours of trade in local currencies agreement, RIC can implement it much faster. But then out-of-the-box ideas such as these can become realities only when these are discussed at the summit level; and hence the need for a RIC setting up an institutionalised mechanism of annual summits.
The writer is a New Delhi-based journalist-author and a strategic analyst.
All rights reserved by Rossiyskaya Gazeta.