The Tao of Mark Zuckerberg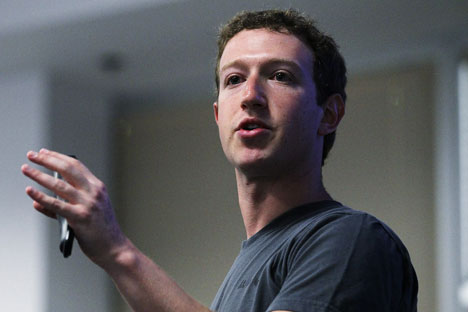 The most shocking thing about Zuckerberg, in the Russian context, is how low-key he is. Source: Gettyimages/Fotobank
The most shocking thing about the Facebook founder, in the Russian context, is how low-key he actually is.
I never thought that there would come a day when I would unabashedly cheer on Mark Zuckerberg. After all, even among hardcore Facebook users such as myself, it is much more fashionable to poke fun at the guy, gently or otherwise.
Yet Zuckerberg's Moscow visit has reminded me that there is at least one thing that the billionaire Facebook founder clearly has going for him – and it's just the sort of quality the local jet-set crowd would be wise to pick up.
I am talking, of course, about Zuckerberg's ability to do regular things and hang out like a regular guy. Like being a tourist in Red Square, for example, or even popping into McDonald's. Sure, in the United States we may decry this as the pretentious behaviour of a spoiled "one percenter" trying to slum it with the riffraff in the hope of boosting his public appeal.
But in Moscow, where shots rang out from the luxury cars of a Dagestani wedding cortege in the city centre just the other day, where busy and important top officials terrorise the city with their reckless driving, and where the pretentious language of luxury now seems to permeate almost every aspect of existence, I see Zuckerberg's behaviour in a completely different light.
In Russia, Facebook still trails behind the Vkontakte social network in terms of popularity. And, depressingly enough, it was VKontakte founder Pavel Durov who recently caused a stir when he tossed money out of the window of their St Petersburg office, and then (with apparent delight) watched people fight over it on the sidewalk below. I wrote then that Durov was acting more like a regular weirdo than an evil, rich overlord – he genuinely didn't seem to understand why what he did was in such poor taste, and appeared to have a poor grasp of the wider implications of his stunt.
Yet Durov's actions were also symbolic of a kind of culture, or lack thereof, among the young and wealthy in Russia. There is a special kind of cynicism that thrives within this milieu – cynicism that is only exacerbated by the polarized nature of Russian society. The "golden youth" know they're hated. For them, rhetoric about "jealousy" among the lower classes is not something akin to an abstraction – like it is for many people in the United States. Instead, it's a daily reality.
Russia has been through too much in the last hundred years. Scar tissue has built up on top of the collective memories of wars and revolutions – memories passed down to each new generation. The rich are not to be trusted, we believe. But neither is anyone else.
And into all of that strolls Zuckerberg, the geek who has inherited the Earth (in its present incarnation, at least). Normal to the point of being boring – as some would argue. Engrossed in first-world problems – such as what to do about Facebook's performance on the stock market. A regular billionaire – not beholden to any political regime, and not worried about landing in prison.
Of course, I have am under no illusion that Zuckerberg represents the American dream. I remember what Facebook was like when it was only open to the students of several universities, including my alma mater. It was a virtual playground for the privileged – those are its roots – in a sense as privileged as Zuckerberg's own roots.
Still, the most shocking thing about Zuckerberg, in the Russian context, is how low-key he is. And it is this comparative serenity, above all, that Russian businesspeople, and regular people, must achieve in order for this country to truly prosper.
All rights reserved by Rossiyskaya Gazeta.