A trial run for India's 2014 poll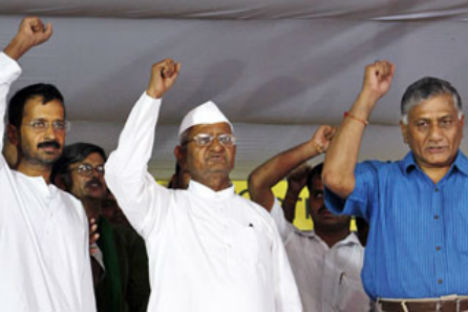 India's politics livened up this week with the announcement of the state elections in Gujarat and Himachal Pradesh in December. Source: Press Photo
The angst is acute since the political stakes are very high for not only the two main national parties but also their regional allies who hope to form the next coalition government in New Delhi.
India's politics livened up this week with the announcement of the state elections in Gujarat and Himachal Pradesh in December. India's season of traditional autumn festivals promises to be much livelier this year.
The electoral verdict will be known on December 20 and it is going to be a long wait. Both Gujarat and Himachal Pradesh are bastions of the opposition Bharatiya Janata Party [BJP] and the big unknown is whether the Congress Party, which rules India, would manage to unseat the BJP government in at least one of these states. It is a straight one-on-one battle between India's two main parties.
The angst is acute since the political stakes are very high for not only the two parties but also their regional allies who hope to form the next coalition government in New Delhi.
Congress has had a dry run in the recent period and it desperately wants a break somewhere to show its appeal hasn't diminished and certainly it isn't the party in decline as is commonly made out to be. No doubt, the massive corruption scandals have dented the party's image and there is much criticism that its leadership has lost touch.
The Congress expects that somehow the growth story could be revived on the economic front in the coming months on the basis of which a fresh mandate could be sought in the 2014 parliamentary election. But it is unable to break the political logjam. The opposition neither wants the government to be brought down nor is it giving an easy time for it to push through the economic policy measures. In the current vitriolic atmosphere, simply put, what suits the opposition is that the Congress remains in power and looks more and more corrupt and inefficient and eventually falls down like a rotten apple sometime close to 2014 so that the people instinctively dump it as pure vermin.
Thus, a stunning election victory in Gujarat in December can help the Congress reverse the current adverse tide, regain the political initiative and put the opposition on the defensive. For the BJP, equally, a third successive win in Gujarat will help underscore convincingly that it is on a winning streak in the country.
Between the two states going for the election in 2014, the greater interest will be on Gujarat where Chief Minister Narendra Modi is also inching toward staking claim to lead BJP in the next parliamentary poll. Conceivably, it is Modi rather than BJP who is recognisable in Gujarat and the contest is likely to shape up as a straight one between Congress and Modi. Leading his party to a third successive win will significantly boost Modi's bid to lead India as its next prime minister.
But Modi evokes strong feelings of adoration bordering on hero-worship or antipathy edging toward hatred, and, what complicates matters further for his prime ministerial ambitions is that the BJP too is at a crossroad having to choose between his brand of rightwing Hindu nationalism or something closer to a right-of-centre liberal ideology as its electoral plank in 2014.
The fallouts of the BJP's future ideological trajectory are going to impact on the course of coalition politics in India as well. In sum, the ascendancy or decline in Modi's political fortune in the Gujarat election on December 20 promises to become a watershed event in India's national politics.
Modi faces sniper fire by discontented people from within his own party who strive to undercut him. Again, being a "low-caste" man also is a big handicap within the BJP's top echelons, which are dominated by the Hindu upper caste elites. He has ably formed alliances to neutralize his handicap. However, the decisive factor would be Modi's ability to whip up "Gujarat asmita (pride)" and to combine it with his charisma as a decisive leader. Besides, his organizational skills to rally supporters are legion and his track record as chief minister is also widely recognized as a lot better than most within his peer group.
On the other hand, Congress is starting the campaign as the underdog and is mortally in danger of ending up that way, as it lacks a local leader to match Modi's stature or a functioning local unit that matches his entrenched party machinery. At the end of the day, Modi is a controversial figure and through the long years in power he has disillusioned many sections of people, and yet if Congress seems unable to pull itself together to take advantage of his handicaps in Gujarat, the rest of India is sure to draw some very important conclusions. Arguably, Gujarat becomes a test case for not only Modi in his struggle to wrest the BJP's leadership mantle, but also for Congress Party's residual capacity to regenerate in a sea of troubles.
All rights reserved by Rossiyskaya Gazeta.