Lavrov says no to Russian role in resolving Kashmir issue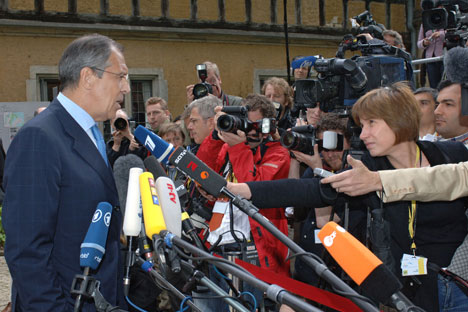 Russian Foreign Minister Sergei Lavrov met journalists. Source: Eduard Pesov/RIA Novosti
The South Asian neighbours are capable of solving bilateral disputes without Moscow's intervention, according to the Russian Foreign Minister.
Russia, which has traditionally supported India's position on the Himalayan region of Jammu and Kashmir, said it would not play a role in resolving the dispute between the South Asian neighbours. Russian Foreign Minister Sergei Lavrov, on a visit to Pakistan, said India and Pakistan were capable of sorting out their differences themselves.
The recent improvement in diplomatic ties between India and Pakistan are welcomed by Russia, the minister said during a joint news conference with Pakistani Foreign Minister Hina Rabbani Khar.
"We discussed this issue. We welcome steps Pakistan and India have taken on confidence-building measures. Both countries are capable of settling their issues on their own without any foreign assistance," Lavrov was quoted by sections of the Pakistani media as saying. The two countries have "established diplomatic traditions" and the ongoing contacts between India and Pakistan are a good development, Lavrov added.
Jammu and Kashmir is divided among India, Pakistan and China in a territorial dispute. Pakistan controls the northwest portion (Northern Areas and the so-called Azad Kashmir), India controls the central and southern portion (Jammu and Kashmir) and Ladakh, and China controls the northeastern portion (Aksai Chin and the Trans-Karakoram Tract).
The Soviet Union used its veto in the United Nations to block motions against India on several occasions, the first of which was in the immediate aftermath of the 1948 war between India and Pakistan that commenced months after both countries obtained independence from the British Empire. Russia is one of the few countries, where maps show the areas under Pakistani control, as Indian Territory.
The cancellation of Putin's visit to Pakistan
When members of the Pakistani media questioned Lavrov on the cancellation of Putin's visit to Pakistan, the Russian Foreign Minister said it was because of Putin's "tough schedule." Lavrov added that the Russian president had sent a message to his counterpart Asif Ali Zardari in this regard and expressed hope that dates would be arranged for a meeting in future.
Hina Rabbani Khar said Pakistan's political leadership was committed to having strong bilateral relations with Russian and further expand these into all areas of cooperation.
Pakistan Army Chief Gen Ashfaq Parvez Kayani is on a three-day visit to Russia at the invitation of Nikolai Makarov, the Chief of General Staff of Russian armed forces. Kayani is also expected to meet President Putin.
All rights reserved by Rossiyskaya Gazeta.