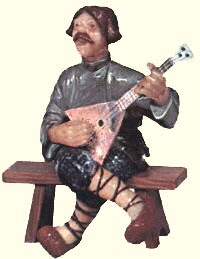 The first literary mention of the balalaika dates to the late 17th century. Source: Press Photo
The first literary mention of the balalaika dates to the late 17th century. At the time it was widespread among the peasant folk. Wandering minstrels sang and played the balalaika, amusing the crowds at fairgrounds. Every master-musician would craft the instrument to best suit himself, which explains why the balalaikas were so diverse in shape and size - round, triangular, rectangular, trapezoid, and with a varied number of strings – ranging from two to five.

The skill of playing a balalaika and the repertoire would be passed down by word of mouth from generation to generation. It was only thanks to Vasily Andreev – a balalaika virtuoso, and founder of a unique ensemble, that the world discovered this folk instrument.

Vasily Andreev was born in 1861 in Bezhetsk in the Tver region, to a merchant family. When the boy was 11, the family moved to St.Petersburg, where he was enrolled at a gymnasium. Vasily developed a keen interest in music at an early age. "By the age of 14 I had taught myself to play twelve instruments, without knowing anything at all about music score," he wrote later in his memoirs. In senior classes at the gymnasium Vasily studied the violin under the guiding hand of a St. Petersburg Conservatoire professor. However, once something quite unexpected occurred. At his parent's estate in the Tver region he heard a previously unfamiliar to him music instrument. "I rushed to the wing that the music was coming from," recalled the musician in his memoirs, "and there I observed a peasant man, seated on the porch steps playing the balalaika! I had an instinctive urge, there and then, to take the instrument in my hands and start playing it myself!"

His parents, needled to say, were taken aback and quite shocked at their son's interest in so uncouth an instrument, yet there was no holding young Vasily back. He began learning to play the balalaika.


Source: Andreyev's Daydreams / IndiaRussiaTV - YouTube
With his mother's blessing, Vasily entered St.Petersburg Conservatoire. However, he had no intention of giving up his balalaika lessons, and soon became quite a virtuoso, an idol of high society salons, with the commoners' instrument suddenly shooting to popularity in society. Prior to that for a long time it was regarded as a rustic, boorish instrument of the peasant folk, unworthy of the attention of music salons. Artists worthy of the name deemed it mortifying to appear alongside balalaika players. However, the appearance on stage of the immaculately dressed in tail-coat and perfectly mannered Andreev, with balalaika in hand, uprooted all preconceived notions and stereotypes regarding the instrument. Soon he set up a balalaika fan club of sorts, and following that – an orchestra of Russian folk instruments, which included domras, and the Russian psaltery. Andreev intended to "dress the balalaika up in coat-and-tails" - transforming it from a rather primitive folk instrument into one of academic level.


Vasily Andreev could not only play with remarkable virtuoso skill, but proceeded to upgrade and improve his beloved instrument. His sketches were used to create the chromatic balalaika, the first balalaika playing textbook was published, and classes opened in Petersburg. Andreev was fanatical about this Russian instrument. When mellowed wood was required to make instruments, he had no compunction about using doors or even antique carved furniture at the estate for the purpose.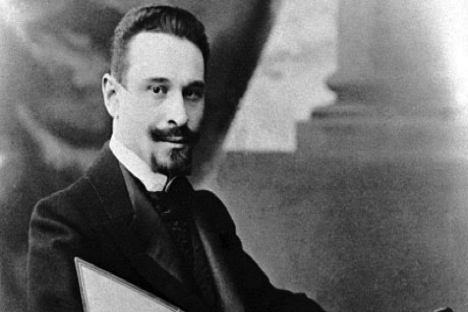 Vasily Andreev – a balalaika virtuoso, and founder of a unique ensemble, that the world discovered this folk instrument. Source: ITAR-TASS
"Not only men, but even society ladies play the balalaika with great enthusiasm. Balalaikas have made their way into gymnasiums, lyceums, legal science, the army, with balalaika admirers forming circles everywhere... As an instrument easy to handle, with a melodious sound and not requiring continuous and difficult training to master, the balalaika is accessible to the masses. In a matter of minutes I can teach anyone to play the "Barynia" tune on the balalaika. However, it is also so versatile that at times one requires a year and a half to learn to play certain other compositions on it. The balalaika has now become quite the beloved instrument of Russia's high society... Although, in truth, I regard its popularity in sophisticated society as something transient. This is not the place for the balalaika. Its place is with the popular masses, where it shall eventually end up, by way of the retired army servicemen, who are presently being methodically taught to play the balalaika," Andreev wrote.
It was to his credit that playing this instrument was taught in the Russian army. For this purpose a special teaching staff of musicians was introduced in the army, while he himself was elevated to the rank of "army folk music chief". Thanks to him, thousands of soldiers, having mastered balalaika playing in the army, developed an interest in music, and subsequently brought this skill to their villages and factories… where ensembles and orchestras mushroomed…
A veritable triumph awaited the enthusiast abroad. When Vasily Andreev first came to England with his orchestra, he was initially met with wariness. The English had not heard of the instrument at all. However, when at the end of the concert his ensemble dashingly struck up the folk song "Hey, heave-ho!", there was a deafening silence in the audience, after which there came a thunderous applause and shouts of bravo. The papers came out with rave reviews. The orchestra's tour in England was extended. In all of London's most exclusive restaurants one could now hear the strains of Russian music. This is how a witness of those events described the last concert of that triumphant tour:
The orchestra's tours to other countries were similarly triumphant: France, Germany, the USA… Andreev was elected Honorary member of the French Arts Academy, awarded the French Legion of Honour. In Russia after his return he was offered the post of court councilor and title of "Soloist of His Imperial Majesty".
When the Andreev orchestra concluded its concert tour, the The New York Times wrote on October 30th 1910:
A great many celebrities have come to our country from Europe over the past ten years. However, we cannot recall anything as fascinating, novel and original in music as the Andreev orchestra. Only a veritable genius could have created so perfect an ensemble from an alignment of the most simple, unsophisticated instruments.
Thanks to Andreev's efforts Russian music became popular abroad. The acclaimed Zimmerman company was selling increasingly more Russian folk instruments abroad. However, there were also some amusing over-the-top incidents. For example, in England they started ordering coat tails a-la Andreev, releasing a soap brand called "Balalaika" etc.
Vasily Andreev was extremely proud of this high assessment of his art. Appearing at the 25th jubilee of his orchestra at the Maryinsky theater, he said:
"I achieved my aim through very hard, tireless work, even suffering. But no matter how hard my sufferings for the good of my country might have been – it was all worth it, since it has been a joy to serve my Motherland".
When the Bolshevik revolution of 1917 broke out, Andreev did not stop playing. His orchestra set off on tours to the Northern front, where he conducted the ensemble, before the Red Army soldiers, dressed in coat and tails in the bitter frost, as a measure of his profound respect for the listeners. However, it was during those tours that he caught a bad cold and soon died. The celebrated musician was buried at the Alexander Nevsky Lavra in St. Petersburg. His good friend, famous Russian bass Fyodor Chaliapin attended his funeral. He gently stroked the deceased's head and said, tears glistening in his eyes: "Vasya, oh, Vasya, what have you done, eh?"
Years later well-known composer Valeri Gavrilin thus summed up his achievements: "Andreev's name is like a Russian national anthem. Upon hearing it, every Russian ought to stand up…"