Russia's President promises a new model for economic growth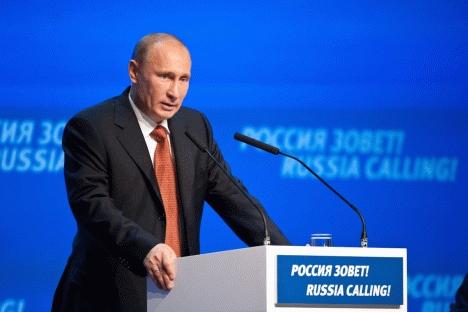 Vladimir Putin taking the floor at the "Russia Calling" Business Forum. Source: ITAR-TASS
Vladimir Putin approves of the country's economic growth indicators so far, but wants to take solutions for development in a new direction. He proposes shifting emphasis away from the energy sector and toward new investments and infrastructure.
In his speech at the Russia Calling forum in Moscow, Russian President Vladimir Putin declared that the country has exhausted its supply of "simple solutions" for ensuring economic expansion.
According to Putin, Russia's GDP growth is now of "better quality" and "better balanced," but the country still needs to make major changes to its economic development model.
"Despite the positive dynamics of the Russian economy, we have run out of simple solutions and easy drivers of growth," the president said.
Putin went on to explain that, although oil and gas export revenues account for the lion's share of Russia's GDP, it would be unwise and short-sighted to continue relying on them in the future.
Further growth is only possible by means of large-scale investment in creating new production, modernizing currently operating production units and developing human assets. As such, the foremost task for Russian authorities is to provide a framework for creating and developing new sectors of the economy.
President Putin promised to take a few steps in this direction. Specifically, a pending amendment to the country's Tax Code is projected to facilitate the economy's investment inflows in a more cost-effective manner.
Furthermore, the cumulative part of pensions will remain in place, and pension funds will be used to finance infrastructure projects.
The Russia Calling! forum is being held in Moscow for the fourth time. Almost 2000 people attended this year's event, including 400 Russian and foreign inverstors and another 400 representatives of the press. A similar event aimed at attracting interntional investments is held annually in London.
Putin has also put high hopes in the Direct Investment Fund. According to him, almost 8 billion rubles ($257.5 million) from the federal budget have been injected into investment projects, and 25 billion rubles ($805 million) in private investor funds have been raised. Putin appears confident that the Fund will provide substantial support for newly-created sectors of the economy, particularly in the area of raising capital.
All of this is expected to boost investment up to 25 percent of GDP by 2015 and create 25 million jobs by 2020.
Labor productivity is also projected to grow by 50 percent over the next six years – by the end of Putin's current term of office.
Experts believe Putin's statements, to some extent, clarify his election promise and how he intends to keep it.
"The promise to amend the Tax Code is a declaration of future plans. That is good. There has been no progress in this direction up until now," Anton Danilov-Danilyan, co-chairman of Business Russia, said in an interview for Expert. "The Finance Ministry's tax strategy through 2015 includes no tax reforms whatsoever."
Likewise, Vadim Soskov, a specialist at the management company Kapital, believes that the decision to keep the cumulative part of pensions will give significant support to the Russian people, who will be able to continue creating demand within the economy even after retirement. Furthermore, the burden on the state budget will be moderated.
All rights reserved by Rossiyskaya Gazeta.