Gazprom to build two more lines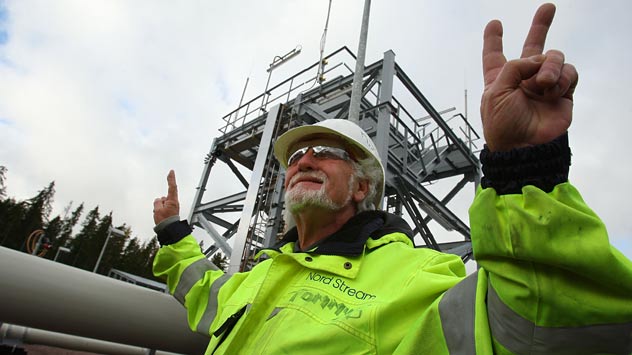 Gazprom to invest in two more Nord Stream pipelines to transit gas in UK and Germany. Pictured: The launching ceremony of the Nord Stream second line took place on Oct. 8 in Vyborg. Source: ITAR-TASS
Following the launch of Nord Stream's second pipeline, Gazprom is expected to invest in a third and fourth line for gas delivery to Britain and Germany.
Gazprom launched a second line to its Nord Stream project on Oct. 8, doubling the natural gas pipeline's capacity. Expansion will not stop there, however, as the project's shareholders are expected to make the decision to invest in a third and fourth line before this year is out. But with demand in Europe falling and existing projects operating below capacity, many analysts question the practicability of the decision.
"We have decided that building the third and fourth lines is economically practicable and technically feasible," Gazprom Chairman Aleksey Miller said during a ceremony for the launch of the second line. The executive added that a memorandum would be signed before the end of January 2013, on building new capacity for gas transport under the Baltic Sea and farther to Europe.
"One line may be used to deliver gas to Britain," Miller said. In preparation for this, Nord Stream shareholders intend to set up a new company in the first quarter of 2013.
A source within the company told RBC Daily that a line may once again be directed to Germany. German Chancellor Angela Merkel had expressed doubts earlier about the practicability of the plan. According to Nord Stream's deputy communications director, Jens Müller, the Merkel had meant that there was no need for the project just yet.
"Germany has always been interested in additional capacity and projects to ensure the uninterrupted supply of fuel to the country," Müller said.
Russian Presidential chief of staff, Sergei Ivanov, says that Gazprom has already agreed on environmental safety aspects with Finland, Sweden, Denmark and Germany. President Vladimir Putin, speaking via video link, stated: "Supplies to Europe will be stable and uninterrupted – that we guarantee."
Nord Stream's first line has an annual capacity of 950 billion cubic feet, and the capacity of its second line is the same. This means that the pipeline can already deliver nearly 2 trillion cubic feet of gas to Europe every year. However, over 11 months of operation, it has only delivered 318 billion cubic feet – one-sixth of capacity.
Analysts insist that it will be hard to fill the additional lines with gas any time soon. Britain's imports, for example, dropped to 2.8 trillion cubic feet in 2011, after peaking at 3.4 trillion in 2004.
According to Troika Dialog analyst Valery Nesterov, although the UK's own gas production has dropped by more than half to 1.5 trillion cubic feet over the last ten years, it does not make economic sense for the country to buy expensive Russian gas. The analyst believes it would be easier for the British to increase the import of cheaper LNG from Qatar (currently standing at 780 billion cubic feet) and other Middle East and African countries (about 105 billion cubic feet of LNG).
Earlier, Gazprom managers revealed that they were looking to increase export to Britain to 20 percent of the country's total consumption, up from its current 5 percent. Britain, however, would agree to a maximum 10 percent, which, according to Nesterov, would be 105–140 billion cubic feet. Nestrov added that, under the right conditions, the third line may pay its way if the gas flows to other countries as well as Britain. A fourth line, however, is unlikely to be successful.
President of the East European Gas Analysis consultancy, Mikhail Korchemkin, agrees that "building more lines under the Baltic Sea is not practicable, because the total annual capacity of export pipelines already exceeds Europe's needs by 3.5 trillion cubic feet."
However, he notes that extending the gas pipeline to Britain would increase gas export, because Germany could take out transit gas on its territory. Over the past three years, the price of Russian gas on the German border has, on average, been 30 percent higher than British NBP prices. In addition, the Nord Stream British line meets the interests of the European Union, which, according to Korchemkin, would like to see an increased share of spot gas price indexation.
First published in Russian in RBC Daily.
All rights reserved by Rossiyskaya Gazeta.