Pakistan and Russia move closer toward military cooperation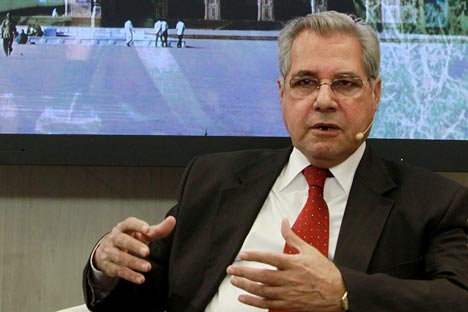 Ashfaq Pervez Kayani, Pakistan's chief of army staff, paid a visit to Moscow last week. Source: RIA Novosti / Alexander Natruskin
Russia no longer intends to please India by refusing to cooperate militarily with Pakistan – a country that holds serious sway over the situation in Central Asia and Afghanistan.
Following Vladimir Putin's canceled trip to Islamabad in early October, Pakistan's capital received a visit from Sergei Lavrov instead. Russia's foreign minister travelled to Islamabad, while Moscow welcomed Ashfaq Pervez Kayani, Pakistan's chief of army staff.
The exchange was intended to relieve tension, but the two parties still have to prove that the Russian-Pakistani "reset" is still on course.
Pakistan's sudden cancellation of the "Dushanbe Four" summit, which had been slated for Oct. 2-3 in Islamabad, has piqued international interest in the countries' bilateral relations. Despite the fallout from the failed summit, Pakistan did not cancel General Kayani's visit to Moscow –a move that would have been an open diplomatic signal.
On the contrary, Islamabad has made it clear that it intends to extract maximum benefit from Kayani's trip, and not just in the sphere of military-technical cooperation (MTC).
General Kayani's four-day visit to Moscow got underway on Oct. 3. Although the general's trip to Moscow had been agreed upon last spring, following a visit to Islamabad by the commanding officer of Russia's ground forces, the agenda for Kayani's stay in Russia underwent rapid revision.
According to sources in Islamabad, prior to leaving Pakistan for Moscow, General Kayani held a private meeting with Prime Minister Raja Pervez Ashraf, which was also attended by senior officials of the Pakistani Foreign Ministry.
Following the meeting, the Pakistani media leaked that Kayani, in addition to holding talks with the Russian Ministry of Defense, might also meet with one of Russia's political leaders. Sources did not rule out that the general could be received by Russian President Vladimir Putin.
For many years, Islamabad has a maintained strong interest in developing MTC with Russia. Pakistani aspirations, however, have repeatedly come up against one intractable obstacle – namely, the fierce objections of Russia's strategic partner, India. Delhi's stance on the matter has been firm and succinct: not a single cartridge to Pakistan.
Nonetheless, experts suggest that Russia is gradually revising its approach.
"India remains Moscow's most important partner in the area of MTC, both in terms of volume and potential. Yet Delhi's attempts to diversify its supplies of new weapons – increasingly from Western countries – are making Russia flinch. Moscow has explained to Delhi, in no uncertain terms, that it can also diversify its military-technical ties by means of a rapprochement with Pakistan," said Ruslan Pukhov, director of the Center for Analysis of Strategies and Technologies.
He believes that another key factor that may force Moscow's hand in unlocking military ties with Pakistan is the situation in Afghanistan.
"Pakistan exerts huge influence over the country. Moscow is racking its brains over how to ensure the safety and security of the southern borders of the CIS when U.S. and NATO troops finally pull out of Afghanistan. If Russia continues to snub Pakistan in favor of India, it would ultimately run contrary to the interests of Russia's security," Pukhov said.
In his expert opinion, however, cooperation with Pakistan in the area of MTC would be limited.
"Russia is unlikely to sell Islamabad an air defense system or fighter aircraft," said Pukhov. "Still, dual-use systems, such as the Mi-17 helicopter, could be supplied, in addition to combat training and the exchange of military experts."
First published in Russian in Kommersant Daily.
All rights reserved by Rossiyskaya Gazeta.