Yoga comes along with beauty and healthy lifestyle, and of course with a pinch of India. Source: ITAR-TASS
Boot camp in the capital brings together practitioners of various types of yoga to spread awareness of the ancient Indian physical, mental and spiritual disciplines.
The popularity of yoga and the sheer numbers of centres that have mushroomed in Moscow in the last few years has confused many Muscovites. Teachers and practitioners of each form claim to be "authentic." Some doubts were no doubt cleared last week when the city hosted the second edition of Yogafest, an annual fair that brings practitioners and curious Muscovites together.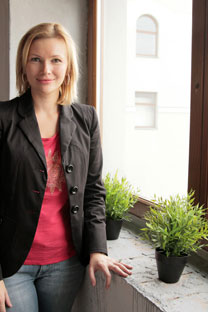 Elena Lebedeva, an event manager of Yogafest 2012. Source: Press Photo
Yogafest is the brainchild of Elena Lebedeva, an event manager who has been practising yoga for the last 15 years. She changed teachers from time-to-time, she but her most important encounter with the Indian physical, mental and spiritual disciplines came when she met her ashtanga yoga teacher. The experience had an impact on her mind Lebedeva says.
The idea to organize such a festival came up when Lebedeva thought that Moscow is missing a platform for guidance in the varieties of yoga. That's when she decided to organise a "yoga festival gathering all yoga schools of the city under one roof." The first edition of the festival had close to 4000 visitors and an even larger crowd turning up this year.
Yogafest had yoga classes of different schools, a common zone and a market area. Classes were held by 16 different teachers specialising in different practices. The common zone had seminars, lectures, movie screenings and performance of Indian dance and music, along with some children's entertainment.
There were also prominent Indian guests at the festival: Guru Dhanurdhara Swami Maharaj, a scholar and teacher of Bhakti-Yoga and apprentice of ISKCON's Srila Prabhupada and the astro-psychologist Bhagavat Das, believed to be the only Russian-speaking astrologer recognised in India with a gold medal in Vedic Astrology.
Here is a list of the top 5 yoga centres in Moscow (Source: rt.com)
Federation of Yoga
Federation of Yoga is widely-known even among Muscovites who have never given a thought to spiritual perfection. The chain has 6 centres offering various styles, from classic "hatha" and "kundalini" yoga to less mainstream types. Prices start at around 400 roubles per lesson.
The centre is also known for various events aimed at making yoga more popular. Last summer their coaches held free classes at Park Kultury Metro station every Sunday morning.
Narayana
The Narayana centre offers another option for fans of outdoor sports. It is located in the Red October complex and holds open-air classes on the terrace of Strelka Bar twice a week during summer months.
But as the weather gets colder, you might be looking for a warmer place to practise. So here is another option.
Ananda
You can find this cozy studio on Ostozhenka Street. This is one of the few places in Moscow where yoga is taught by instructors from India.
The experienced yoga masters here practice a yoga style that incorporates elements of several classic approaches with emphasis on breathing and stretching. Their classes are held in English and last 60 minutes.
Bikram
If you want your yoga experience to be even more authentic, visit Moscow's only "Bikram" yoga studio near Kitay Gorod Metro station. Their clients can expect a very warm welcome… literally!
"Bikram" – yoga was invented in the '70s in the US and has gained quite a following there. It consists of a sequence of postures practiced in a room heated to 40 degrees. The idea is to stretch warmed up muscles and drive toxins out with sweat.
The studio's owner received his certificate from the top guru himself and now invites other Bikram coaches from the US on a regular basis.
Prana
"Prana" yoga is where you can try almost all existing yoga styles under one roof, from "Ayyengar" to "Himalayan". The spacious centre near Barrikadnaya Metro includes five exercise halls, a vegetarian bar and even a painting-studio.
They offer an introductory course for various yoga styles where you can learn the terminology, meditation and breathing techniques.
All rights reserved by Rossiyskaya Gazeta.