What opposition victory in Tbilisi means for Russia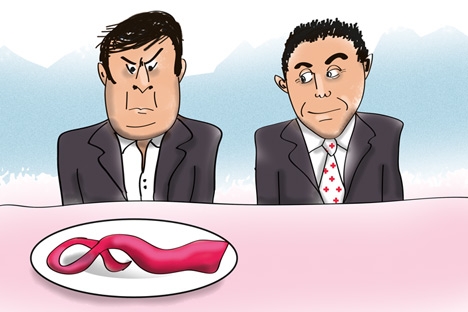 The opposition's victory in Georgia's recent parliamentary elections paves the way for renewed dialogue between Moscow and Tbilisi.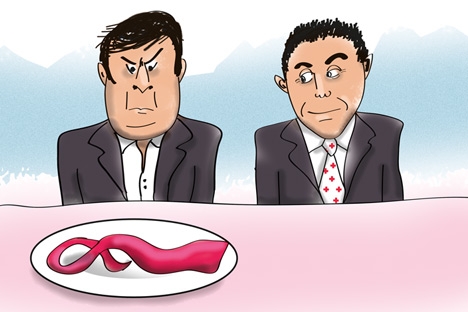 Click to enlarge the image. Drawing by Niyaz Karim
The victory in Georgia's parliamentary elections of Georgian Dream – an opposition bloc led by Bidzina Ivanishvili – does not signify an immediate change in Tbilisi's foreign policy. However, it does open the way for dialogue between the two countries, whose relations were, and remain, severely soured by the August 2008 war in South Ossetia.
To begin with, even if the opposition wins a majority of seats and forms a government on its own terms, it will face hardline opposition from supporters of the current ruling party. Therefore, the victorious Ivanishvili remains cautious on the subject of impending changes in the corridors of power, promising to cooperate with his losing opponent. Given the tremendous support still enjoyed by the current president among the country's high-ranking officials and leaders, such statements are judicious. Regardless of the election outcome, jockeying for ministerial groups is set to last a fair while.
Secondly, despite the outward openness of the Georgian billionaire, most of Ivanishvili's statements on foreign policy are couched in general terms and sound more like declarations of intent. Moreover, he appears to be trying to "satisfy" the interests of all stakeholders. When speaking about the geopolitical challenges facing Georgia, Ivanishvili said: "There is no substitute for NATO." And he has called for closer political integration between Georgia and Europe.
The opposition leader, who could become Georgia's next prime minister, proposes "restoring cultural and trade ties" with Russia. But not a word is uttered about establishing a political dialogue or restoring diplomatic relations. Why? Either, Ivanishvili does not want to aggravate his opponents, or, he is fully aware of how difficult it will be to return to the negotiating table after "breaking" the Saakashvili regime.
None of the many recent interviews given by the Georgian Dream leader make mention of Russia's proposal to Georgia, regarding legal guarantees of non-aggression in respect of South Ossetia and Abkhazia. Ivanishvili merely stated that "the restoration of Georgia's territorial integrity will be a long and difficult process." But how does Tbilisi plan to resolve the issue — through dialogue or force? Here Ivanishvili is silent, preferring instead to focus attention on domestic matters.
Shortly before the election, the Georgian billionaire wound up most of his assets in Russia; although the British newspaper The Guardian claims that he still owns a large stake in Gazprom. Speaking in May 2012 about his intentions, Ivanishvili mentioned Russia as one of his business priorities. If the current leader of the opposition manages to sideline the conflicts in South Ossetia and Abkhazia and focus more on the positive trends seen lately in Russian-Georgian relations, then a rapprochement between the two countries could indeed be in the cards. However, such a solution demands that Ivanishvili show strong political will – not all of his comrades-in-arms will look favorably on the idea.
The defeat of the Saakashvili regime was due, primarily, to fatigue on the part of Georgian society and its disappointment in a president who left many domestic social problems unresolved. Ivanishvili united the opposition through his substantial financial resources and, moreover, positioned himself as someone capable of raising living standards throughout the country. During his campaign, however, he distanced himself from Moscow, and even declined Russian citizenship.
Ivanishvili's victory, while a prerequisite for renewed dialogue with Russia, in no way means a rapid overhaul of Georgia's foreign policy doctrine. This appears impossible, given the opposition's plans to establish a dialogue with the current ruling party and its leader, Saakashvili.
"Transformations need to occur in Georgia itself, so as to normalize relations with the breakaway regions," said Ivanishvili on the campaign trail. On the back of such transformations, primarily economic in nature, the leader of Georgian Dream will gradually succeed in making personnel changes at the top and setting up shop as the parliamentary election winner.
But relations with Russia — that most delicate of issues for Tbilisi — will hit a pause. During this time, Moscow and Tbilisi will informally sound out each other's positions and define the boundaries of future relations, with respect to the actual situation on the ground in South Ossetia and Abkhazia.
In January 2013, Georgia will hold its next presidential election. Unable to run for a third term, Saakashvili is heading for an exit, regardless. However, despite being a "lame duck," he and Ivanishvili have already found some common ground. The opinions of the current head of state, who could lead the country's largest parliamentary faction in the future, will not be taken lightly by Georgia's newly-elected parliamentary deputies. And this means that Russian-Georgian relations are back on the agenda.
Yevgeny Shestakov is a member of the Presidential Council for Foreign and Defense Policy and editor of the international section of Rossiyskaya Gazeta.
First published in Russian in Rossiyskaya Gazeta.
All rights reserved by Rossiyskaya Gazeta.