Birthday greetings to the IAF from Russia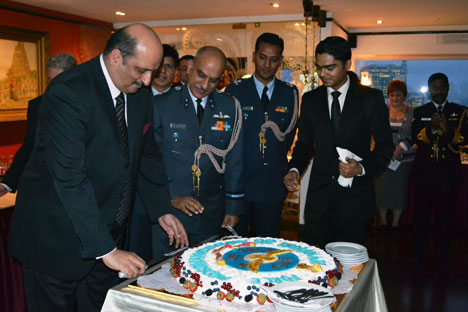 Ambassador Ajai Malhotra warmly congratulated the Indian Air Force personnel and lauded their commendable service in ensuring the safety and security of India. Source: Press Photo
As the Indian Air Force turns 80, old friend and partner, Rosoboronexport conveys its greetings and calls for further cooperation between the two sides.
Rosoboronexport, the Russian state intermediary agency for export and import of military and dual-purpose products, congratulated the Indian Air Force on its 80th birthday and expressed confidence that the Russian-Indian Military and Technical Collaboration in the aviation sector will develop vigorously.
In a statement released to the media, Rosoboronexport said: "Russia and India have a long-standing history of military aviation collaboration. Thousands of Soviet and Russian aircraft have entered service with the Indian Air Force and it is Russian airplanes and helicopters that now form its backbone.
The military and technical cooperation between the two countries is not limited to purchases of end products, as the Russian-Indian partnership has shifted focus to licensed production, joint R&D and, finally, joint development of new generation machines. More than a hundred joint R&D projects ordered by the Indian side are currently under way. Russia has no other partner in the defence industry with this scope of technology cooperation.
It is with India that Russia carries out ambitious aviation projects that are expected to drive Russian and Indian aircraft engineering. These high-tech programmes attest to the real level of the Russian-Indian strategic partnership and mutual confidence between the two countries.
A superb example of successful cooperation is the licensed production of the Su-30MKI multipurpose fighters, whose high combat effectiveness was confirmed during an international exercise involving the best Western aircraft models. The Russian-Indian Su-30MKI demonstrated excellent combat capabilities and was praised by all the participants in the exercise.
Former Indian President Pratibha Patil took two flights on board the Su-30MKI, becoming the first female head of state to fly a fighter plane. The successful operation of the Su-30MKI in India proves that it is a reliable fighter, designed using state-of-the-art technologies.
The BrahMos supersonic cruise missile is an example of successful collaboration in development of new armaments. Specialists of the two countries are working on adapting the missile to the Su-30MKI fighter.
Helicopter construction is another promising area for cooperation. Besides large-scale deliveries of the Mi-17 series transport helicopter, Russia has submitted bids for two tenders to supply India with 15 heavy transport helicopters and 197 reconnaissance helicopters.
The former bid is the unique Mi-26T2, known for its load-carrying ability. The Russian Mi-26 machines evacuated shot down and out-of-service Chinook helicopters in Afghanistan for which Russian pilots were commended by the US president in 2009.
The second bid is Russia's light Ka-226T. Alongside the helicopter, Rosoboronexport offers a broad and very attractive offset scheme that includes licensed production of helicopters in India. This profound cooperation is only possible with a reliable and proven partner, one with which cutting-edge technologies can be shared. The strategic level of engagement between Russia and India opens up tremendous opportunities for cooperation in high-tech aviation engineering."
Birthday Celebrations in Moscow
The Indian Air Force's 80th birthday was also celebrated in Moscow this week. Speaking at a reception organised by the Air Attache of the Embassy of India, Moscow, Ambassador Ajai Malhotra warmly congratulated the Indian Air Force personnel and lauded their commendable service in ensuring the safety and security of India. He also remembered with deep gratitude the sacrifice of the Indian Air Force personnel who had laid down their lives in the service of the nation.
Ambassador Malhotra also greeted the Russian Air Force officers and engineers as the Russian Air Force too had recently celebrated its 100th anniversary earlier this year. He recalled the long-standing cooperation between the air forces of India and Russia and noted that several Russian engineers and designers had devoted their entire working life to promoting Indian projects under Indo-Russian military technical cooperation.
The Indian ambassador said Russia is India's largest partner in military-technical cooperation and vice versa adding that cooperation in defence has long been an important pillar of the India-Russia strategic partnership. Malhotra also pointed out that bilateral defence ties have transformed radically in recent years from a straightforward buyer-seller relationship to one involving joint research, development, and production of advanced defence systems.
All rights reserved by Rossiyskaya Gazeta.