Russia, India to address contentious issues at top levels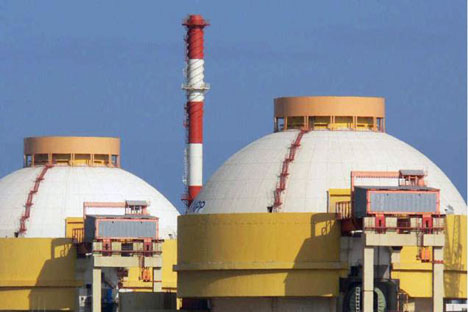 The Kudankulam and Russia-Pakistan ties issues do not form part of the India-Russia Inter-Governmental Commission on Trade, Economic, Scientific, Technological and Cultural Cooperation. Source: Press Photo
The status of units 3 and 4 of the Kudankulam Nuclear Power Project and Moscow's growing ties with Islamabad will figure in talks this weekend.
Russia and India are set to engage with each other at the top level later this month amidst two new challenges that are not going to be pushed under the carpet by the two countries and would entail herculean diplomatic efforts by both to keep the bilateral relations going from strength to strength. The two issues have surfaced as major points of divergences which would require intervention at the highest level from both sides to ensure that a stitch in time saves nine.
From Russia's point of view, a major red rag is the Indian government's recent policy decision that the third and fourth units of Kudankulam Nuclear Power Project will come under the new civil nuclear liability law, and not be covered by the agreement on KNPP's first and second units. From Indian point of view Russia is being seen to be cozying up to Pakistan which is a matter of concern for the Indian strategic establishment.
On both these issues, each country has a good reason to do what it is doing. The Indian Government consulted its legal experts on Russia's request that India should recognise Kudankulam 3 and 4 as being grandfathered under the agreement for Kudankulam 1 and 2 because the Indo-Russian agreement of 2008 in this regard was done before the liability law. The legal opinion is that the 2010 civil nuclear liability law would have to apply on any future reactor and a waiver would be seen as India wilfully distorting the level playing field. This would inevitably jack up the costs for Kudankulam 3 and 4 and India is willing for that provided the Russians agree to a moderate hike.
On the issue of growing synergy between Russia and Pakistan and the Indian concerns, there is nothing much that Russia can do apart from mouthing routine diplomatic sweet nothings. Russia has a valid contention that when India and China are going ahead in improving their relations despite an outstanding border dispute and having fought a war half a century ago, why can't Russia take care of its strategic interests by improving relations with Pakistan to have a better connect with post US-pullout Afghanistan? Moreover, India itself is engaged in the process of improving ties with Pakistan despite a series of high-profile terror attacks on Indian soil.
Rogozin's Mission India
The two issues are going to come up this weekend when Russia's Deputy Prime Minister Dmitry Rogozin arrives in New Delhi on October 13 on a three-day official visit. Rogozin, an important leader of Russia who has been assigned the onerous task of modernising Russian defence industry, will primarily be in the Indian capital for the 18th meeting of the India-Russia Inter-Governmental Commission on Trade, Economic, Scientific, Technological and Cultural Cooperation.
Rogozin will also have a separate bilateral meeting with his Indian counterpart SM Krishna and will call on Prime Minister Manmohan Singh. The ticklish issues in Indo-Russian ties are going to come up for discussion at both these meetings. Rogozin had raised the Kudankulam issue in his last India trip in July 2012 as well, though the Russia-Pakistan relations were not really an issue at that point of time. The Kudankulam and Russia-Pakistan ties issues do not form part of the India-Russia Inter-Governmental Commission on Trade, Economic, Scientific, Technological and Cultural Cooperation.
The IRIGC is a vital pillar of the special and privileged partnership between India and Russia. It includes a wide spectrum of representatives from various ministries and agencies. It integrates inputs from six Working Group relating to economic and trade cooperation, energy and energy efficiency, tourism and culture, science and technology, information technology, and modernisation and industrial cooperation. A key area of discussion will be banking, civil aviation, bilateral trade and the entire expanse of energy issues, including hydrocarbons. The outcomes of this session will feed into the annual summit between India and Russia for which President Vladimir Putin is scheduled to arrive in New Delhi on October 31.
Another important task of Rogozin's Mission India is to give a fillip to the bilateral trade and investment ties. A wide gamut of do's and don'ts and suggestions are to come up for both sides' consideration when Rogozin participates in the India-Russia Trade and Investment Forum along with his Indian interlocutor Commerce and Industry Minister Anand Sharma. This will be the sixth meeting of the Forum. This Forum will focus on developing and strengthening partnerships in three major priority sectors like Modernisation of Industry and Innovative Development, Energy and Energy Efficiency and Medical Technologies and Pharmacy. These three areas will include industry verticals such as Information and Communication Technology (ICT), Pharmaceuticals and Biotechnology, Aerospace, Engineering, Mining and processing of mineral ores and hydrocarbons, power and energy, financial & banking Services, chemicals & fertilizers and investment. The forum will also highlight the investment potential and opportunities or sectors and special economic zones of the Russian Federation, as well as strengthening ties with small & medium-sized businesses of the two countries.
IRIGC Meetings
Incidentally, just before the upcoming 18th meeting of the India-Russia Inter-Governmental Commission on Trade, Economic, Scientific, Technological and Cultural Cooperation on October 15, the twelfth meeting of the India-Russia Inter-governmental Commission on Military Technical Cooperation was held in New Delhi on October 10, 2012. This IRIGC meeting was jointly chaired by Russian Defence Minister AE Serdyukov and his Indian counterpart AK Antony. The two defence ministers endorsed the Protocols of the meetings of the Working Group on Shipbuilding, Aviation and Land Systems, (WG SALS) and the Working Group on Military Technical Cooperation (WG-MTC) which were held in New Delhi on August 27-28, 2012 and August 30-31, 2012 respectively.
All rights reserved by Rossiyskaya Gazeta.