Russian-Iraq cooperation gaining momentum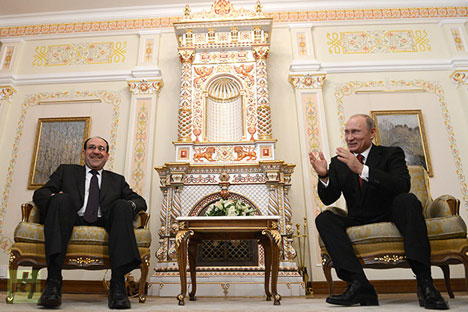 Russian President Vladimir Putin (right) and Iraqi Prime Minister Nouri al-Maliki. Source: AFP Photo / Kirill Kudryavtsev
Bilateral trade between one-time allies looks to boom again in the wake of new projects in the energy and security sectors.
Russian President Vladimir Putin and Iraqi Prime Minister Nouri al-Maliki have focused on promoting trade and economic cooperation at their meeting in Moscow. The Russian leader emphasised that Iraq's growth rate had inspired optimism and as a result, a growing number of Russian companies had arrived in Iraq.
The volume of trade between Russia and Iraq is over $47 million. This is not a big figure but there are objective reasons for this. The first and foremost reasons are the restrictions on trade with foreign businesses. Among the other reasons are the necessity of registration of the branches of companies in Iraq and restrictions on some grades of steel. Only the removal of such restrictions can improve the situation, Vladimir Putin emphasised.
"At present, the volume of trade between our countries is not so big, but there are promising projects. Some Russian energy companies have been operating in Iraq. This list consists of a large number of energy companies, Russian corporations as well as international giants. I hope that they will gradually promote their work," Vladimir Putin said.
This concerns, first and foremost, the large-scale Russian project in the fuel and energy sector, the development of the West Qurna-2 deposit with the participation of Russia's Lukoil company, as well as Gazprom Nefti Company, which is working at the Badra deposit. Moreover, another Russian company, Zarubezhneft is planning to take part in future tenders.
At the meeting with Vladimir Putin, Iraqi Prime Minister Nouri al-Maliki said that Russian Prime Minister Dmitry Medvedev would instruct their ministers to develop some more projects in the energy sector and make investments in such areas as trade and construction.
But there are other areas where Iraq wishes to establish cooperation with Russia, Nouri al-Maliki emphasised.
"We can promote cooperation in security and military areas. We also can share operative information on the situation in the region as well as other issues of mutual interest," Nouri al-Maliki said.
In fact, Iraqi military delegations headed by Defence minister Saaudun Duleimi have visited Russia more than once this year and signed several deals which are estimated at over $4 billion.
Moreover, cooperation in the humanitarian area is gradually growing. About 150 Iraqi students are studying in Russian higher educational establishments. According to Nouri al-Maliki, they spoke highly about Russia and the level of education in the country.
All rights reserved by Rossiyskaya Gazeta.