An odyssey: Rise and rise of Russia's famous fashion icon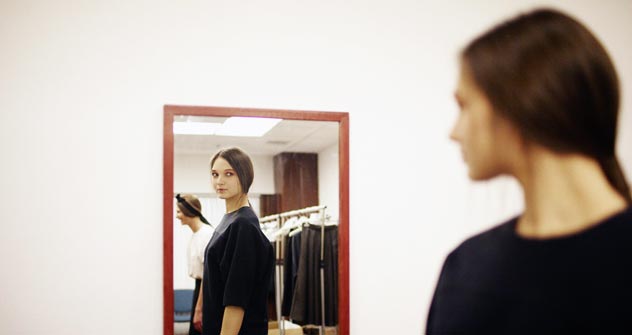 Yudashkin loves all the things Russian – the national dress and colours, history, culture and great personalities. Source: Elena Potchetova
Valentin Yudashkin is going to hold a fashion show on October 28 at the shopping centre DLF EMPORIO in New Delhi during the 'Days of Moscow in Delhi' festival.
In the fashion world, if you haven't heard of Valentin Yudashkin, you are not quite there. Known for dressing Raisa Gorbachev, Russia's iconic designer has imparted a contemporary look to the international fashion world and is the only Russian designer to be honoured with membership in the Syndicate of High Fashion in Paris.
The 49-year-old maestro paved the way for the Russian fashion industry when his fashion house was recognised as a House of haute couture in 1993, putting his name in the same league as Gianni Versace and Karl Lagerfeld. It all seems like a fantasy come true. In the early 1980s, Yudashkin couldn't have even dreamt that he will soar so high in the fashion world. With the eternal deficit of goods in the Soviet era and the fashion business virtually non-existent, his dream of becoming a clothes designer seemed unreal to many.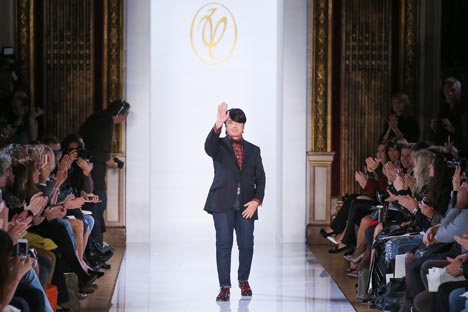 Russia's iconic designer's collection is taking the fashion industry by storm. Source: Getty images / Fotobank
"There was no such specialisation as a fashion designer then but since my very childhood, I've enjoyed making costumes," recalls Yudashkin.
As a fresh graduate, Yudashkin inaugurated his own brand called "Vali – Fashion" in Moscow. And in four years' time, he scaled a new peak in the industry and conquered the fashion capital – Paris. Yudashkin's first Haute Couture collection called "Faberge" shone at the Paris runways, a spectacular show that instantly made him a global celebrity. As a memory of that milestone collection, one of Yudashkin's dresses in the shape of a Faberge egg is exhibited in the Louvre.
Yudashkin's first haute couture presentation was held in the building of the Russian embassy in France, which was a risk on the part of the organisers of the show because that was the time of perestroika and hence, the political situation in the country was tense.
But the show turned out to be an astonishing success. Yudashkin's collection left the French connoisseurs of fashion spellbound. The young Russian designer even received congratulations from Pierre Cardin, the French guru in the world of fashion. After this, Yudashkin's name became famous all over the world and his fashion shows became part of the annual Haute couture week in Paris.
Designed for fame, the Master's ascent
Education: In 1986, Yudashkin graduated from the Moscow Industrial College, majoring in clothes design and makeup.
Experience: Yudashkin's first haute couture presentation was held in 1991. In 1993, Yudashkin opened his fashion house, the first one in Russia to be recognised as a haute couture house. Next year, he launched his prêt-a-porter line. In 1997, Yudahskin received an award for promotion of the Russian fashion at the festival "Master-class" in Saint Petersburg.
When Yudashkin took his baby steps in the fashion industry, there had been virtually no practice of creating branded clothes in Russia. The whole notion of haute couture itself was alien to the country. He had to solve many organisational problems whereas in Europe in such situations specialists were invited to handle such issues. So Yudashkin had to constantly multitask while managing his house of fashion and not let this heavy workload take a toll on his creativity at the same time. Otherwise, in case of a crisis, there would have been no one to nurture him at that period. The hallmark of the Yudashkin clothes is quality, original design and refined style, which is often referred to as "Russian" subtlety because the couturier never forgets his roots and uses various adornments in his collections to remind of them. Thanks to Yudashkin's creative approach, the garments adorned with sequins, spangles and beads are taken for "Russian style outfits". Among Yudashkin's brand collections, there are haute couture and prêt-a-porter garments. The latter include men's and women's collections as well as jeans and lingerie collections.
Yudashkin has also unveiled different collections of jewellery, accessories, perfumes, sunglasses, spectacles, footwear. With such impressive achievements behind him, he celebrated his glittering career and hard-won rise to fame by publishing his own book in 2003. The book encapsulated 15 years of his creative work. He also organised an exhibition where he presented about 200 garments, both Haute Couture and pret-a-porter. A lot of Russian celebrities prefer to buy clothes in Yudashkin's shops. His brand boutiques are located not only in Moscow, but also in other fashion capitals – New York, Paris and Milan. Apart from being a prolific couturier, Yudashkin dreams of initiating in Russia the first Fashion Academy, where students will have an opportunity to study from illustrious designers, couturiers and stylists.
All rights reserved by Rossiyskaya Gazeta.