Conflict resolution in South Asia: The Russian connection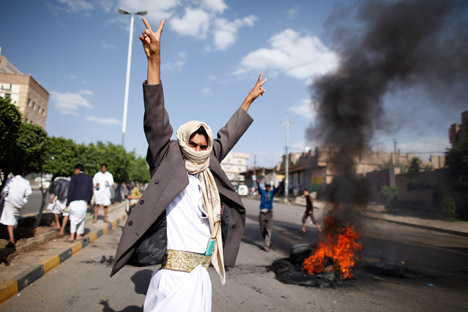 Source: Reuters / Vostock Photo
Russia's stakes in the region can be supplemented with its astute diplomatic manoeuvres in advocating peace and stability in the region.
South Asia is known for many things including its protracted conflicts. Whether in Afghanistan, or Kashmir, or insurgencies in other parts of the region, international attention has never been dissipated from the subcontinent, once under the British colonial rule. Particularly in the context of Kashmir, the conflict has passed through many spirals of power involvements before, during and after the cold war. The post-cold war developments in the region significantly contributed to various dimensions of the conflict in the region. Though recently Afghanistan has trumped up as the major issue in the region, the potential of Kashmir as a disturbing zone has not been minimized. Some of the recent developments – Russian Foreign Minister Sergei Lavrov's assertion that Moscow is not interested to play third party role, Pakistani President Asif Ali Zardari's castigating the United Nations as a failed body to resolve conflicts, and Russian President Vladimir Putin's statement that dualism must be avoided in fighting terrorism – further amplify this proposition.
The interests of Russia (formerly the Soviet Union) in South Asia and its conflicts can be traced back since the partition of British India, and particularly since the issue of Kashmir surfaced in the United Nations. Since the development of Indo-Soviet bonhomie and even after the collapse of the Soviet Union, Russia has due its location and traditional connections with the region, has a keen interest in the conflicts in the region. It was the Soviet Union, the only third country, which could use its good offices and bring together leaders of India and Pakistan at Tashkent in 1966 for a joint agreement on ceasefire and peaceful resolution of the conflict. It may not be quite implausible to argue that recent Russian endeavours in South Asia, particularly its overtures towards Pakistan may place it in a more favourable position to advocate peace in the region. Lavrov's recent comment in Islamabad to the effect that Russia will not intervene in the conflict as a third party can be seen not merely as Russian disinterest to involve in a bilateral conflict, but also as rigidity of approaches of India and Pakistan to develop a common agenda to resolve the contentious issue. Russia's insistence that the conflict must be resolved between India and Pakistan peacefully and bilaterally is in salience with Russia's traditional policy, which is also highly relevant in a post-cold war world.
President Putin in one of his statements in the last week of the last month pointed out clearly that terrorism and extremism must be stopped in any form, and double standards must be given up in fight against terrorism. Any state, whether in South Asia or in any other parts of the world must shun terrorist violence whether as a state policy or as a strategic lever in terms of supporting directly or indirectly the divisive forces in any other country. Putin's statement is highly relevant in the context of South Asian politics and conflicts. It is expected that during the forthcoming visit of Putin, both India and Russia will reiterate their commitments to a world free from terrorism and extremism, and free from dualism in fight against terrorism. The civilian government in Pakistan has increasingly realised this imperative of the emerging global order. The recent uproar in Pakistan over the targeting of a teenage girl in the Swat valley by Taliban shows that the Pakistan's civilian government is increasingly adopting a transparent policy in targeting the terror machine whether in its north or in its east. One can expect that with Russia moving closer to Pakistan, the space for extremism and terrorism forces and their advocates will be further shrunk. In this particular sense, Russia can play a positive role in moving South Asia and its players towards peace and stability. India instead of expressing grouse must think in the way how this emerging situation can be used in fight against terrorism.
Pakistani President's raising the issue of Kashmir in the United Nations last month can be juxtaposed with other recent developments in the region. It is known that Kashmir card can be used effectively to drum up support and legitimacy. Pakistan is coming closer to hold general elections and Kashmir can be a vote catcher. Looking from this perspective, Zardari just played the Kashmir card to appease the hardliners, particularly in the army, and also in his political party. Otherwise, Zardari played an active role in promoting peaceful relations with India. His government granted MFN status to India last year, and during his regime India and Pakistan signed many confidence building measures including the liberal visa regime. Zardari's statement might appear discomforting for India, but New Delhi is mature enough to see the play behind the scene, and take cognizance of the emerging realities in the region. It may not be far-fetched in this context to argue that with recent parleys of Russian leaders with Pakistan, and with visit of Russian President to India next month, the situation of peace and stability in the region may be further augmented.
Hence, it will be out of sync of pragmatism to argue that Russia moving closer to Pakistan will signify Russia moving away from India. Russia indeed played an astute role in sending its Foreign Minister to Pakistan and pledging aid to this emerging partner, but at the same time emphasizing peaceful and bilateral resolution of the Kashmir conflict. Russia's stakes in the region can be supplemented with its astute diplomatic manoeuvres in advocating peace and stability in the region, whether in Kashmir or in Afghanistan, and working together with India and Pakistan to root out terrorism and extremism from the map of South Asia. Perhaps that will be one of the major achievements of the prospective trilateral cooperation. From this point view, the forthcoming visit of President Putin holds great promises for cooperation, peace and stability in the region.
The writer is an Indian commentator. His areas of interests include India-Russia relations, conflict and peace, and strategic aspects of Eurasian politics.
All rights reserved by Rossiyskaya Gazeta.